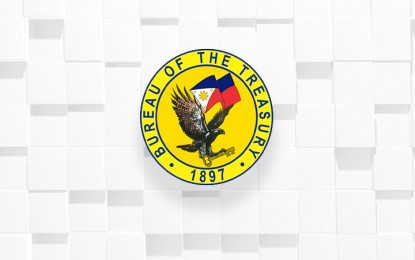 MANILA – The Bureau of the Treasury (BTr) on Tuesday partially awarded the new three-year Treasury bonds (T-bonds).
The coupon rate was set at 6.250 percent.
The auction was undersubscribed with total submitted bids reaching PHP29 billion.
The BTr raised PHP21.2 billion of the PHP30 billion offering.
Rizal Commercial Banking Corporation (RCBC) chief economist Michael Ricafort said the three-year T-bond average auction yield was higher than the 5.883 percent in the previous three-year T-bond auction on April 4, 2023.
"It was also slightly higher than the comparable 3-year PHP BVAL (Bloomberg Valuation Service) yield at 6.20 percent as of September 4, 2023 partly due to the latest pick up in the headline inflation to 5.3% in August 2023, vs. the 16-month low of 4.7 percent in the previous month," he said.
Ricafort said this is also amid the recent hawkish signals by local monetary and Federal Reserve officials on the readiness to raise policy rates if needed.
"The auction yield (was) also higher after global crude oil prices reached new 9.5-month highs that led to the 9th straight week of local fuel pump price increases that could also add to inflation, as well as higher local rice prices recently though offset by the rice price ceiling effective today, September 5, 2023," he added. (PNA)