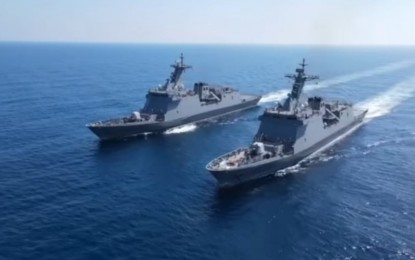 MANILA – French defense manufacturer Naval Group on Wednesday night announced that it has fitted its Contralto anti-torpedo reaction module to the Philippine Navy (PN)'s two Jose-Rizal-class missile frigates.
"On 31 August 2023, Naval Group's Contralto anti-torpedo reaction module was successfully installed into the C-Guard decoy launching system of the PN's two Jose Rizal class frigates. This important milestone is part of the contract signed in December 2021 to provide an anti-torpedo defense system based on Naval Group's Canto/Contralto solutions," it added in a statement.
Under this contract, Naval Group would supply these defensive systems to the BRP Jose Rizal (FF-150) and BRP Antonio Luna (FF-151).
"The setting to work and testing of Contralto were performed at Subic-Agila Bay in the Philippines on August 31, 2023 in the presence of representatives from the PN, the Armed Forces of the Philippines, the Philippine Ministry of Defense (Department of National Defense) and industrials responsible for anti-submarine warfare (ASW) systems," Naval Group noted.
The commissioning of the ASW and Contralto anti-torpedo reaction modules completes the armament of the two Jose Rizal-class frigates.
The installation of Contralto was carried out after an upgrade of the combat management system supplied by Hanwha Systems and of the C-Guard decoy launcher systems supplied by Terma.
"The next contractual milestone is planned in 2024 with the delivery of Canto anti-torpedo countermeasures and the training of the crews by Naval Group," it added.
Canto is the latest countermeasure generation in the defense industry.
This breakthrough in the field of anti-torpedo defense applies a unique concept to defend the frigate.
It is based on the dilution/confusion concept to defend high value and mission essential units by generating a high level acoustic signal over 360-degree, covering the full frequency range of the attacking torpedo.
This anti-torpedo system is fitted with its associated reaction module Contralto, which computes the most appropriate evasive maneuver and deployment sequence once a threat is detected. (PNA)