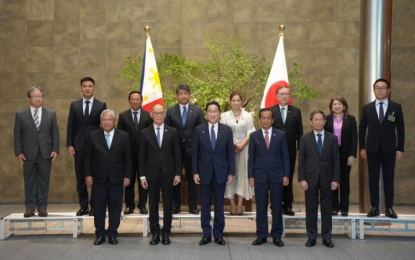 MANILA – The Bases Conversion and Development Authority (BCDA) sought out potential partners for Clark development plans and programs at the recent 14th Japan–Philippines High Level Joint Committee on Infrastructure Development and Economic Cooperation in Tokyo, Japan.
BCDA president and chief executive officer (CEO) Joshua Bingcang was part of the Philippine delegation led by Finance Secretary Benjamin Diokno and joined by Socioeconomic Planning Secretary Arsenio Balisacan, Transportation Secretary Jaime Bautista, Budget and Management Secretary Amenah Pangandaman, Energy Secretary Raphael Lotilla, Public Works and Highways Secretary Manuel Bonoan, and Information and Communications Technology Secretary Ivan John Uy.
The Philippine delegation paid a courtesy visit to Japanese Prime Minister Fumio Kishida, where he declared Japan's commitment to support the Philippines in its journey to attaining upper middle-income country status by 2025.
Road to upper middle-income PH
In support of this vision for the Philippines, Bingcang laid out the organization's comprehensive plans for New Clark City, Clark Freeport Zone, and Clark International Airport to Japanese investors and financial institutions at the Japan International Cooperation Agency (JICA) Takebashi Office in Tokyo.
Bingcang highlighted the potential for collaboration in the public-private partnership projects, which provide a gateway for mutual growth.
"Our partnership with Japan continues to flourish, as evidenced by the remarkable progress in these high-impact projects for New Clark City. Together, we are shaping the future of urban living, leveraging technology, sustainability, and collaboration to pave the way for innovation and progress," he said.
Among the projects and programs he pitched to Japan were the 100-hectare mixed-use Clark Central Business District in Clark Freeport Zone in Pampanga, 35-hectare affordable residential complex in New Clark City in Tarlac, 22-hectare Clark International Convention and Exhibition Complex, New Clark City Common ICT Infrastructure, and data center colocation facility in New Clark City, among others.
"As we move forward, we see immense potential for collaboration and investment in Clark and the Philippines. Let's join forces to create opportunities and a brighter future together," Bingcang said.
To date, there are 10 Japanese companies operating in the Clark Freeport Zone, including Yokohama and Taiyo Nippon Sanso.
BCDA has also partnered with Japan Overseas Infrastructure Investment Corporation for Transport and Urban Development, Nippon Koei, and Keio University for the 9,450-hectare New Clark City development master plan; The Kansai Electric Power Co. Inc., Chubu Electric Power, and Marubeni for smart utilities in New Clark City; as well as New Energy and Industrial Technology Development Organization and Zenmov, Inc. for a three-year demonstration project on smart mobility solutions in its Clark and New Clark City developments. (PNA)