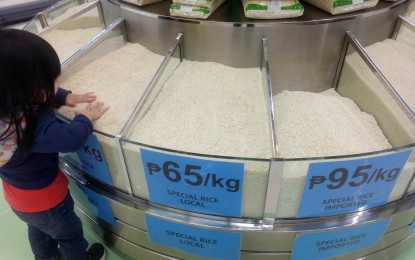 MANILA – Retail prices of rice will go down substantially without government intervention with the beginning of harvest season this week.
In an interview on Saturday, Steven Cua, president of the Philippine Amalgamated Groceries and Supermarkets Association (PAGASA), said the imminent delivery of fresh rice stocks will inevitably cause prices to roll back, even as he was careful to speculate as to by how much.
"It's hard to say because it all depends on the quantity (of new rice stocks) that gets into the market. But since the government seems to be targeting the PHP41 to PHP45 (per kilo) range, prices will probably settle at around that level… on average" he added.
The retail sector leader also urged authorities to "continue inspecting rice warehouses," saying that hoarding exacerbates existing supply deficiencies, further aggravating inflationary pressures.
He emphasized that the government-imposed price ceiling is the only reason why any variety of rice is still available at below PHP50 per kilo today.
"Premium" rice, on the other hand, retails between PHP52 to PHP75 per kilo in both wet markets and supermarkets.
Cua said PAGASA member supermarkets are currently selling only premium rice varieties that are not subject to price caps under Executive Order No. 39.
"Small retailers (in wet markets) are the ones getting the limited supply of regular and well-milled rice. We don't mind since our customers are typically willing to pay a little more for higher quality rice. It is really the poor who need the subsidized rice the most. We'll just wait for the new stocks to arrive, since harvest season has already begun anyway," he noted.
Sergio Ortiz-Luis, Jr., president of the Employers' Confederation of the Philippines, lauded the imposition of price ceilings on rice varieties that are often consumed by those in the marginalized sectors.
"Anything that makes life easier for working Filipinos will be welcome to the business sector… it relieves pressure from us all," he said.
He also called on the government to investigate the rice distribution network further to determine at what point hoarding and profiteering takes place.
Ortiz-Luis said the ongoing distribution of PHP15,000 cash subsidy to struggling rice retailers will allow the government to closely inspect how the commodity moves down the distribution channel. (PNA)