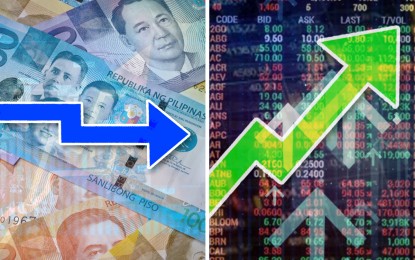 MANILA – Government policies targeted to address the spike in rice prices boosted investors' sentiments to buy local shares on Monday, while the peso moved sideways.
The Philippine Stock Exchange index (PSEi) finished the day increasing by 10.80 points to 6,233.74 level, with All Shares also improving by 3.22 points to 3,363.45.
Rizal Commercial Banking Corp. chief economist Michael Ricafort cited drivers that bolstered investors' sentiments and these include "(r)ecent signals/reiterations on a possible pause in local policy rates; proposed reduction in rice import tariffs from 35 percent (to 0-10 percent) to help further reduce local rice prices."
He said this is also "after reiterations on the temporary nature, that could end soon, on the rice price ceiling since September 5, 2023 and subsidies given to rice retailers since the weekend, in an effort to discourage price manipulation/profiteering, as well as curb rice prices and overall inflation (which picked up to 5.3 percent in August 2023, from the 16-month low of 4.7 percent in July 2023); (and) in view of the palay harvest season by mid-September-October 2023 that could increase palay/rice supplies and also help ease rice prices."
Sectors were mixed on Monday's trading, with three counters ending in the green and the other three in the red territory.
Gainers include Mining and Oil (+188.54 points), Industrial (+94.04 points), and Services (+4.17 points), while losers are Financials (-5.20 points), Holding Firms (-4.32 points), and Property (-2.77 points).
There were more decliners at the start of the week at 103 over the 95 that improved while 41 remained stable.
On the other hand, the Philippine peso closed sideways at 56.69 against a US dollar from a 56.63 finish last week.
It opened at 56.63, stronger than the previous week's kick off at 56.74.
The currency pair traded from a low of 56.53 to a high of 56.70, bringing the average level for the day at 56.63 to the greenback.
Volume of trade reached USD1.19 billion, lower than last week's volume of USD1.62 billion. (PNA)