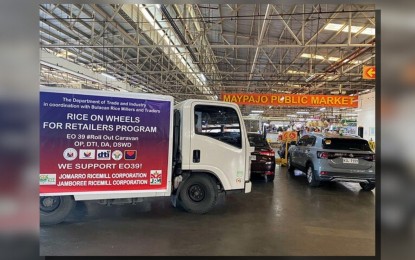 MANILA – The Department of Trade and Industry (DTI) said rice millers and traders committed 30,000 sacks of 50-kilogram rice for the Rice on Wheels for Retailers program in support of Executive Order (EO) No. 39.
"The Rice on Wheels for Retailers program aims to ensure the availability of regular and well-milled rice that are within the price ceiling set by E.O. No. 39. This program specifically targets retailers in public markets to enable them to source out cheaper rice," DTI said in a statement Tuesday.
The program, being implemented in partnership with Bulacan rice millers and traders, started on Sept. 8 and was rolled out in Manila, Quezon City, Parañaque, Makati, Pasig, Caloocan, Muntinlupa and Marikina.
The DTI said the caravan, which will be implemented in other areas if there is a demand, has sold 1,371 sacks of well-milled rice since the caravan started last week.
"For now, the Rice on Wheels program serves as a mitigating measure for those affected by the implementation of EO 39. We will adjust the timeline of the program depending on the result of our monitoring in the coming weeks, whether the situation is improving and there is already enough source of cheaper rice in the market," it said.
On Monday, DTI Secretary Alfredo Pascual said EO 39, which imposes a price cap on rice prices effective last Sept. 5, may be extended for two more weeks to evaluate the impact of the program and decide on whether the policy should be continued or lifted.
Pascual said there is high compliance among retailers on the price ceiling of PHP41 per kilogram for regular-milled rice and PHP45 per kg for well-milled rice.
EO 39 also provides aid to affected retailers in the form of financial assistance, loan programs, logistics support, and market linkages and support. (PNA)