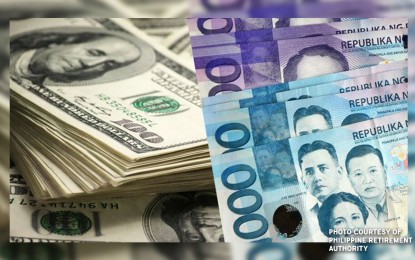 MANILA – The Philippine Stock Exchange index (PSEi) and the peso moved sideways on Tuesday's trade ahead of the release of the US' August 2023 inflation data.
The benchmark PSEi slipped by 0.06 percent to 6,230.20 level, with the broader All Shares down by 0.12 percent to 3,359.43.
"Philippine shares traded sideways ahead of the key US inflation data release, which comes out tomorrow night. Many are projecting US CPI (consumer price index) to creep up to 3.6 percent based on the latest median estimate of Bloomberg," Regina Capital Development Corp. head of sales Luis Limlingan said.
In the local market, sentiments were dampened by lower foreign direct investment (FDI) inflows in June.
"The market was initially trading in the green boosted by the anticipation that the Federal Reserve will keep its policy rates unchanged. However, a surge of last-minute profit-taking pushed the market into negative territory, exacerbated by the decline in Philippines' FDI net inflows," Philstocks Financial Inc. research associate Claire Alviar said.
Mining and Oil counters recorded the biggest gain, adding 122.17 points to 10,389.13, followed by Industrial and Financials, up by 30.71 and 15.27 points, respectively.
Among the losers, Holding Firms shed 31.77 points, Services by 15.38 points, and Property by 2.44 points.
"For the PSEi members, Universal Robina Corporation jumped the most, up by 3.42 percent while ACEN Corporation led the losers, down by 3.87 percent," Alviar said.
Net market value turnover was at PHP3.77 billion.
For two trading days, decliners outpaced advancers at 95 to 79, leaving 61 counters unchanged.
Meanwhile, the local currency also moved sideways to 56.65 to a US dollar from a closing of 56.69 on Monday.
It opened at 56.72 and traded from a low of 56.63 to a high of 56.79, bringing the average level at 56.71 to the greenback.
"For tomorrow, the peso exchange rate could range at the 56.55 to 56.75 levels," Rizal Commercial Banking Corp. chief economist Michael Ricafort said.
Total volume traded on Tuesday declined to USD1.11 billion from Monday's USD1.19 billion. (PNA)