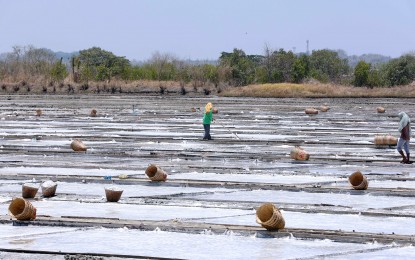 MANILA – A lawmaker said Thursday the proposed Philippine Salt Industry Development Act would provide salt farmers and producers easy access to financial and technical assistance, allowing them to revitalize their once-thriving industry.
Camarines Sur Rep. Luis Raymund Villafuerte Jr. said the positive development surfaced as the Senate passed its version of the measure establishing the Philippine Salt Industry Development Council (PSIDC), which shall craft and implement a roadmap to speed up the modernization and industrialization of the Philippine salt industry.
Villafuerte said under the priority measure of the Legislative-Executive Development Advisory Council (LEDAC), the would-be PSIDC shall identify sources of financing and facilitate credit windows from state-run banks and the Agricultural Credit Policy Council for them to accelerate the development of the salt industry.
"With an archipelagic nation like the Philippines ironically importing over 90 percent of its annual salt requirement, the main task of the PSIDC is to draw up a short-, medium- and long-term roadmap to expand land area devoted to the production of this agricultural product, boost farm productivity, promote investments in this sector, institutionalize capacity-building programs for salt farmers and producers through the ATI (Agricultural Training Institute), and market overseas our Philippine products made from this nutrient," he said.
Villafuerte said the PSIDC shall also create an Agri-Insurance Program for salt farmers and producers and set rules as to when locally produced salt may be subjected to mandatory salt iodization under Republic Act 8172, or "An Act for Salt Iodization Nationwide (ASIN)."
He said the measure aims "to put flesh " into President Ferdinand R. Marcos Jr.'s goal to "revive the dying salt industry and help it get back on its feet on his watch."
"Our goal is for the 19th Congress to help the Marcos administration revitalize the local salt industry by providing it with the right government support services for its protection and direction, specifically those that involve production and development," Villafuerte said. (PNA)