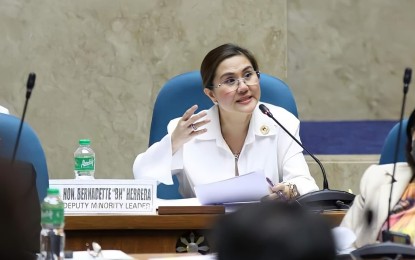 MANILA - A lawmaker is expecting progress in the bilateral talks with Kuwait on migrant workers following the Kuwaiti Court's conviction of the killer of Filipino domestic helper Jullebee Ranara.
"In the same way that the Philippines respects the laws and judicial process of Kuwait that led to the conviction of the murderer and rapist of Julleebee Ranara, we expect reciprocity from the Kuwait authorities, especially on our laws and protections for OFWs (overseas Filipino workers)," Bagong Henerasyon Party-list Rep. Bernadette Herrera said in a statement on Friday.
"May this legal victory bring some measure of justice to the family and friends of Julleebee Ranara," she added.
Herrera also expressed hope that the latest development would strengthen the efforts of the Department of Migrant Workers (DMW) to protect the welfare of Filipino migrants in Kuwait, the Middle East, and Arab countries around the world.
"With this new development, we hope more bills for the welfare of OFWs get approved in the House and sent to the Senate," she said.
Speaker Martin Romualdez, for his part, said the conviction of Ranara's killer sends a positive message to all OFWs.
"We thank the authorities in Kuwait--from its police force to its court--for helping serve justice in the case of our kababayan, Jullebee Ranara," Romualdez said. "Her brutal killing shocked us to our core, especially the OFWs. This verdict goes a long way in assuaging their fears. All they want is to do decent work in order to build their families' future."
He said the development is also a recognition of the importance of OFWs in the Arab states and beyond.
"We help keep together these foreign homes, we help build their impressive edifices, and we take care of their elderly and sick when nobody else is willing to," the Speaker said.
In a statement late Thursday night, the DFA said the Philippine Embassy in Kuwait reported that Ranara's killer has been sentenced to 15 years imprisonment for murder and one year for driving without a license.
Ranara is a 35-year-old household worker whose burned body was found in a desert in Kuwait in January.
Her killer was the 17-year-old son of her employer who was arrested within 24 hours of the discovery of her burned body and has confessed to the crime. (PNA)