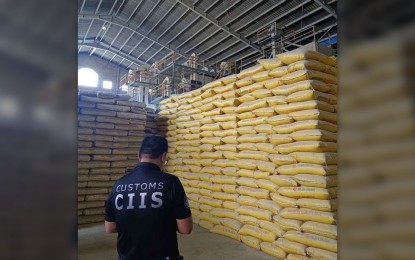 MANILA – The Bureau of Customs (BOC) is considering donating the confiscated 42,180 bags of imported rice to some departments implementing government assistance programs.

The smuggled rice, amounting to PHP42 million, was seized during a raid at a warehouse in Barangay San Jose Gusu in Zamboanga City, BOC - Port of Zamboanga chief Benito Lontok said during the Saturday News Forum in Quezon City.

Lontok said the plan to donate the smuggled rice for the implementation of the Department of Agriculture's (DA) Kadiwa Program and the Department of Social Welfare and Development's (DSWD) assistance programs is still "subject to approval" of BOC Commissioner Bienvenido Rubio and Finance Secretary Benjamin Diokno.

"Idu-donate po yata sa (It might be donated for the implementation of a) government program, I don't know po kung Kadiwa or sa DSWD (if it would be donated for Kadiwa or DSWD's programs). Pero 'yun po ay pinag-uusapan pa (It is still being discussed)," he said.

The BOC - Port of Zamboanga first inspected the warehouse on May 19 after receiving information that smuggled rice was being stored there.
Lontok said authorities found irregularities, although the warehouse owner, BLY Agri-Venture Trading, was able to submit import documents.
He noted the disparities between the actual seized goods and the descriptions provided in the submitted documents.
"That's why we issued a warrant of seizure and detention, and eventually na-forfeit po iyong goods (the goods were forfeited) in favor of the government," he said.
In a statement released Friday, the BOC said the payment records submitted by the warehouse referred to a shipment of "white rice 15 percent broken" but the confiscated rice was "Jasmine Fragrant Rice."
The warehouse also lacked the necessary Sanitary and Phytosanitary Import Clearance from the Bureau of Plant Industry.
The BOC - Port of Zamboanga on Sept. 1 issued an order of forfeiture due to the warehouse owner's violation of the Customs Modernization and Tariff Act, Rice Tariffication Law, and Republic Act 10845 or the Anti-Agricultural Smuggling Act of 2016.
Lontok said the BLY Agri-Venture Trading's case has already been forwarded to the BOC's central office in Manila for further investigation.
"Sila (BOC central office) na po ang magri-recommend kung kailangang i-suspend and file-an ng criminal case iyong may-ari ng bigas (It will be the one to recommend whether there is a need to suspend or file a case against the owner of the rice warehouse)," he said.
The BOC said the agency would conduct more warehouse inspections after President Ferdinand R. Marcos Jr.'s directive to address hoarding and illegal rice importation.

In August, the BOC discovered more than PHP500 million worth of smuggled rice during its inspections of warehouses in Bulacan. (PNA)