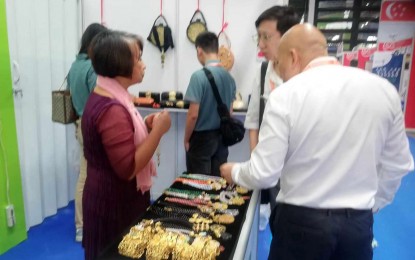 NANNING, GUANGXI– Philippine micro, small and medium entrepreneurs (MSMEs) participating in the four-day 20th China-Association of Southeast Asian Nations (ASEAN) Expo or CAEXPO here are optimistic about getting back the investors they lost when the coronavirus disease 2019 (Covid-19) pandemic struck three years ago.
During the second day of the event at the Nanning International Exhibition and Convention Center on Sunday, 15 Filipino MSMEs were on the lookout for new business partners before the convention officially closes Tuesday.
Victoria Arellano, senior trade industry development specialist of the Department of Trade and Industry-Center for International Trade Expositions and Missions, said in an interview that participants from the Philippines received inquiries on the food, fashion, home and services exhibited during the first two days of the convention.
"These MSMEs are hopeful they could sell as much, meet with the Chinese investors and seal deals," Arellano said.
Harold Paylogo, president and chief executive officer of 22 Propack Asia Corporation from Oriental Mindoro which sells banana chips, said he is optimistic that he would recover the investors he lost during the pandemic.
He started to join the CAEXPO before the pandemic, sealing a trial order deal for one container van of banana chips.
"We joined again the exhibit this year in order to gain exposure and meet more prospective buyers," he said.
Paylogo said the banana chips they produce, glazed with honey, earned good feedback here.
Should he be able to seal a deal to supply his product in China, he assured his company could export at least one container van of 100-gram per pack of banana chips monthly.
"There are 20 farmers who supply bananas to us daily so we could meet the demand," he said.
Jerry Taruc of San Sierra Herbal Products, which sells herbal oil and natural-based ointment from Pampanga, said he started participating at CAEXPO in 2018. He said it paved the way for regular China-based customers who purchase in bulk.
"We had been sending our products to China before the pandemic, so we hope our customers will come back through the CAEXPO," he said.
Before the pandemic struck, Taruc said they generated an income of around PHP280,000 after they sold all the products they brought to the exhibition.
Milagros Berboso Imson, who produces fashion jewelry from junk like brass and aluminum, is hopeful that her creations will get noticed here.
Imson's KitSilver Jewellery sells fashion jewelry, accessories and bags, which she designed and created during the pandemic, for PHP1,500 to PHP7,000.
"During the pandemic, I devoted my time to coming up with new designs for the jewelry and bag accessories that I am selling at the CAEXPO now," she said.
"I expect to develop clientele and receive many orders," she added.
In the 2019 CAEXPO, Imson recalled earning around PHP500,000. She hopes to surpass it this time. (PNA)