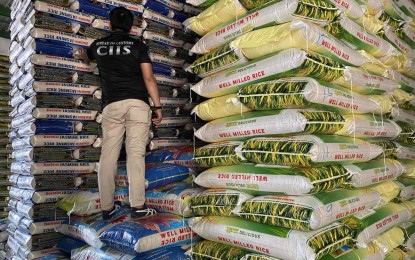 MANILA – An operation headed by the Bureau of Customs (BOC) on three warehouses in Manila led to the discovery of PHP400.2 million worth of suspected smuggled rice and other imported products.
Customs Commissioner Bienvenido Rubio, in a statement Monday, said the goods discovered during the raid on Sept. 16 include PHP310 million worth of imported miscellaneous goods, such as children's toys, cosmetics, kitchenware, household wares, videoke machine, fabrics, cosmetics, pharmaceutical products, shoes, apparel, and general merchandise.
Also found were 36,086 sacks of imported rice from Vietnam, Thailand, and Myanmar worth PHP90.2 million.
"While our government and kababayan (countrymen) scramble to make rice cheaper and more accessible, these businesses are possibly smuggling and hoarding them, which further adversely impacts our efforts to bring the prices down," he said.
On the other hand, Intelligence Group Deputy Commissioner Juvymax Uy added that the operative team, composed of Customs Intelligence and Investigation Service-Manila International Container Port (CIIS-MICP) and the Philippine Coast Guard (PCG), implemented the Letters of Authority (LOAs) signed by the Commissioner to the warehouse representatives of three warehouses located in Antonio Rivera St. and Dagupan St. in Tondo, Manila before proceeding to inspect the storage areas.
"We were expecting to find rice, but it was still disappointing to see tens of thousands of sacks of rice in these storage areas, especially since our very own people are clamoring for more supply and to bring the prices down further even amid the price ceiling we now have," Uy said.
Meanwhile, authorities temporarily placed padlocks and seals on the warehouses, while the inventory of the goods will be conducted by the assigned Customs examiner. (PNA)