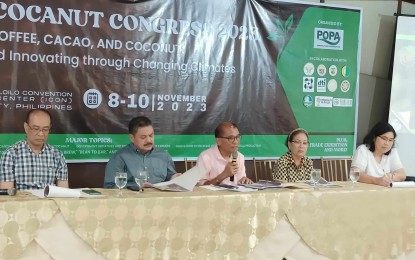 ILOILO CITY – Western Visayas wants to produce its own materials amid the increasing demand for coffee and chocolate-based products, two of the three commodities that will take the spotlight in the Cocanut (coffee, cacao, coconut) National Congress 2023 set on Nov. 8-10.
"As you can see now, the young generation, are into coffee and chocolate-based products. So in Region 6, we are not just contented with buying from other regions. We also have the capacity to produce our own," said Neptune Pittman, chairperson of the farm tourism and events committee of the national congress organized by the Panay Organization for Progressive Agriculture (POPA) Cooperative.
In a press conference, she said the region is trying to cope with the demand, so they plan to come up with the production and a complete value chain of the three products.
Buen S. Mondejar, the chairperson of the Western Visayas Regional Agriculture and Fisheries Council (RAFC), said income-wise, the three commodities are the best alternative for palay.
He added cacao is best when intercropped with coconut and coffee, providing more income.
"These three commodities can co-exist. Coconut is a tree of life, cacao is a tree of love, coffee is a tree of peace and negotiation. Problems can be discussed over a cup of coffee. So in order to have life (coconut), there must be love and peace," he said.
The three-day congress that highlights the potential of the three commodities targets to gather around 1,500 stakeholders with topics encompassing the "bean to brew," "bean to bar" and "whole nut" approaches, said Dr. Louie S. Tirador, chairperson of the POPA.
"The three-day exhibition is expected to bring in major players in the industry, showcase the latest innovation, provide network opportunities, and share best practices in these vital sectors," he said.
Larry Nacionales, overall chair of the event, said they would like to see some issues and problems related to processing and marketing addressed at the end of the congress.
"And there will be agreements among these different sectors, including government, and then identify investment opportunities, projects that would support not only on production but other related researches," said Larry Nacionales, overall chair of the event.
Nacionales, in his initial presentation, said the country is the "second largest heavy consumer" of coffee in Asia next to Japan.
In 2021, Filipinos consumed around 3.05 kilograms of coffee per person per year, and are expected to increase to 3.78 kg by 2025.
In 2019, citing data from the Department of Agriculture, the Philippines imported around PHP10 billion worth of coffee.
For cacao, the production could not even reach 10,000 metric tons, and the demand in 2022 was around 50,000 metric tons.
Based on the roadmap, the country has to achieve 100,000 metric tons, Nacionales added. (PNA)