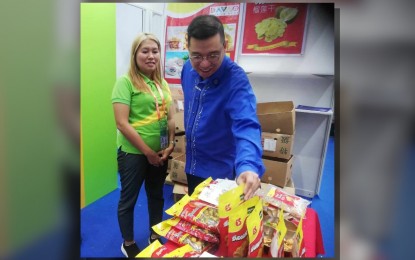 NANNING, Guangxi – The "Puyat" variety of the Philippines durian fruit was the best seller commodity during the 20th China-ASEAN (Association of Southeast Asian Nations) Expo (CAEXPO) held in Nanning, capital of the Zhuang Autonomous Region of Guangxi, China on Sept. 16-19, 2023.
Department of Trade and Industry (DTI) Undersecretary Dr. Ceferino S. Rodolfo said in an interview Tuesday the durian replicates the success of bananas as an export commodity.
"The Philippines is dominant in durian that we want our country to be the number one now in terms of its volume as an export commodity," Rodolfo said.
Chinese and ASEAN participants are willing to pay a premium price to taste the fruit's sweetness and creaminess.
A kilo of fresh durian was sold at PHP700 (90 renminbi) at the trade expo, while in Davao City, a kilo is between PHP100 to PHP125.
"What we will do now is to plant, harvest, and ship more durian to China because there is a market," he said.
He said the state visit of President Ferdinand R. Marcos Jr. to China early this year opened the door for the fruit's first shipment in April, with Nanning as the entry point.
Eng Seng Food Products, the first company to ship durian products to China, is also one of the exhibitors in the CAEXPO.
The Philippine delegation has 15 exhibitors who got the chance to promote their products and meet investors during the first face-to-face on-site exhibition after the pandemic.
"We are fully in support of a strong China-ASEAN cooperation considering that China and ASEAN are the biggest trading partners," Rodolfo added.
He said the Philippine government fully subscribes to the strong China- ASEAN cooperation based on principles of amity, sincerity, mutual benefit, and inclusiveness to maximize the economic partnership.
Meantime, Vice Consul Froilan Emil D. Pamintuan, assigned at the DTI Philippine Trade and Investment Center in Guangzhou, said local officials of Tuguegarao headed by Mayor Rosario Maila Ting-Que are having exploratory talks with investors they met at the CAEXPO.
Tuguegarao was featured as this year's Philippines "City of Charm" to open more opportunities to develop the countryside aside from being geographically near to China.
"Mayor Ting-Que has brought around 10-15 from the business sector so they could have interaction with their possible partner companies," Pamintuan said.
The exploratory talks include possible investments in solar power projects and real estate and services on knowledge management, especially with 400 Chinese students taking up their advanced degrees in universities in Tuguegarao. (PNA)