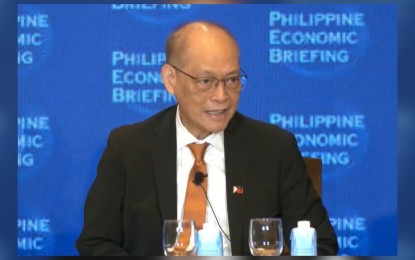 MANILA – Finance Secretary Benjamin Diokno on Tuesday said suspending value-added tax (VAT) and excise tax on petroleum will hurt the economy and reduce revenues by PHP72.6 billion just in the last quarter of this year.
"Any of the proposals will adversely affect our economic and fiscal recovery, our international credit ratings, and our overall debt management strategy, while benefiting primarily the rich and without providing lasting inflation relief," he told reporters in a Viber message.
Diokno made the statement after ACT-CIS party list Rep. Erwin Tulfo said the House of Representatives is eyeing the suspension of the VAT and excise tax on petroleum products to reduce oil prices, which were hiked for the 11th consecutive week on Tuesday.
If VAT and excise taxes on fuel are suspended, the DOF estimates that the government will lose around PHP72.6 billion in the last quarter of this year --PHP 41.4 billion on excise tax and PHP31.2 billion on VAT.
In a separate statement, Diokno said these figures have been programmed under the 2023 budget to fund priority projects and programs, such as social services and infrastructure.
He said foregone revenues, as a result of the proposed suspension of fuel tax, will lead to an increase in the country's deficit levels --from 6.1 percent to 6.4 percent of gross domestic product (GDP) this year, thus undermining the government's fiscal consolidation strategy.
He added revenues lost will mean additional borrowings and interest for the country, resulting in higher debt-to-GDP ratio this year, from a projected 61.4 percent of GDP to 61.7 percent of domestic output.
For 2024, foregone revenues from oil products are estimated to be around PHP280.5 billion or 1.1 percent of GDP.
Estimated loss from total excise tax (PHP 168.2billion) and VAT (PHP 112.3 billion) on fuel products will lead to higher fiscal deficit from 5.1 percent to 6.2 percent of GDP.
These are also expected to increase debt-to-GDP ratio from a projected 60.2 percent to 61.3 percent of domestic output.
"Higher borrowings now will further increase our interest payments and deficit in the future, while reducing fiscal space for crucial social and economic programs," Diokno said. "When you formulate policy, you always think of what's the greatest good for the greatest number."
Instead of suspending the VAT and excise tax on petroleum, Diokno recommended the timely and targeted distribution of subsidies to vulnerable sectors as the best course of action.
"We recognize public sentiment to address the elevated fuel prices. However, as government, it is our responsibility to be cautious in implementing policies that could negatively impact the macro-fiscal stability and sustainability of the country," he added. (PNA)