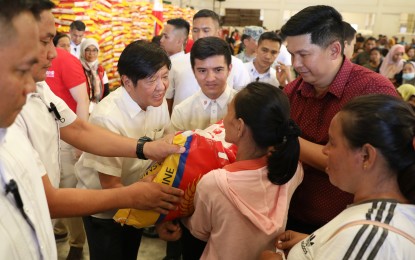 MANILA – Members of the House of Representatives on Wednesday commended President Ferdinand R. Marcos Jr. for distributing confiscated imported rice to poor families in Zamboanga.
Bicol Saro Party-list Rep. Brian Raymund Yamsuan said Marcos has given smugglers and hoarders a bitter, expensive lesson where it would hurt them the most -- their pockets.
"Lugi ang smugglers, pero panalo naman ang magsasaka at mahihirap nating mga kababayan (It's smugglers' loss, but a win for farmers and our poor countrymen)," Yamsuan said.
Marcos on Tuesday led the distribution of around 1,500 sacks of confiscated imported rice to beneficiaries of the Pantawid Pamilyang Pilipino Program (4Ps) during his visit to the National Food Authority (NFA) warehouse in Zamboanga City.
Yamsuan commended the President for sending a strong message to smugglers and hoarders that they have nothing to gain from their unfair trade practices while at the same time, extending assistance to poor households that have suffered the most from these illegal acts.
"By his single strong-minded act, the President has helped farmers and poor families and punished those that have made life difficult for them," he said.
For his part, Speaker Ferdinand Martin G. Romualdez said "this significant gesture" demonstrates more than just an act of generosity, but also underscores the administration's commitment to addressing the needs of the people, especially during challenging times.
"Furthermore, this initiative solidifies our collective stance against the activities of hoarders, smugglers, and those who unscrupulously manipulate the prices of rice and other essential commodities," Romualdez said in a separate statement.
Romualdez also urged the Bureau of Customs (BOC) to file charges against rice smugglers, including those behind the illegal entry of the staple through ports in Mindanao.
"I congratulate the Bureau of Customs and other concerned agencies for a job well done. But they should not stop at confiscating rice and other products smuggled into the country. These offices should file charges against the smugglers immediately," he said.
"Unless the culprits are jailed or otherwise punished, they would continue doing their illegal activities, even if some of their smuggled products end up being seized," he added.
Last May 19, the BOC confiscated 42,180 bags of imported rice worth PHP42 million following a raid on a warehouse in Barangay San Jose Gusu, Zamboanga City.
The BOC forfeited the confiscated rice after the warehouse owner failed to make an explanation on the importation process, and donated the same to the Department of Social Welfare and Development (DSWD).
Meanwhile, Cavite 4th District Rep. Elpidio Barzaga Jr. said the filing of criminal charges by the National Bureau of Investigation (NBI) against six individuals in connection with the hoarding and price manipulation of onions showed Marcos' "strong resolve" in putting an end to agricultural cartels in the country.
"It only shows that the President is really bent on going after these agricultural smugglers and hoarders. It proves that the Chief Executive means business," he said.
Barzaga said time has finally come for a real campaign against agricultural smuggling and hoarding.
"The government can get serious when it wants to and when it needs to. This is just the tip of the iceberg and expect more agri smuggling cases to be filed in the near future," he said. (PNA)