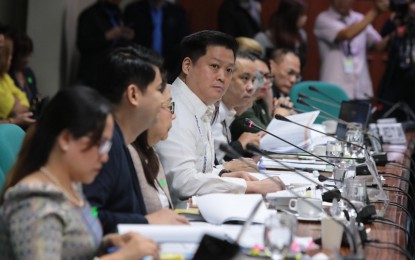 MANILA – Department of Social Welfare and Development (DSWD) Secretary Rex Gatchalian on Wednesday assured senators of the continuation of the Balik Probinsya, Bagong Pag-asa (BP2) program of the government.
Gatchalian, who defended their proposed 2024 national budget in the Senate, said that as of August 31, the DSWD already have served 2,426 out of the 4,572 target families this year.
He said DSWD has already used PHP1 billion or 29 percent of the PHP3.5 billion budget allocation this year for the BP2.
"This is a very good program that we inherited and we plan to keep, in fact use all the time," Gatchalian said.
"We've already asked [for] a new executive order to build on the gains of the BP2. BP2 is something we want to expand to include other types of interventions na magagamit sa mga pamilya na nakatira sa lansangan (that we can use for the families living in the streets). We call them families in street situation," he added.
Gatchalian was responding to Senator Christopher Lawrence Go who asked for an update on the implementation of the BP2 program.
"Ito pong (This) Balik Probinsya Bagong Pag-asa is a socio-economic program of the Philippine government to reverse the migration of people to Metro Manila and other urban areas who are originally from rural areas of the country," Go said.
"You gave us your committment that the BP2 Program will continue even after the pandemic. But I would like to get an update lang sa programang ito (on this program)," he added.
Gatchalian told Go that the DSWD has assigned 60 teams roaming around Metro Manila who are reaching out to families in street situation.
"Hindi na po namin inaantay na sila ang lumapit sa amin kundi hinahanap na namin sila sa mga lansangan ng (We are not waiting for them to approach us, but we are the ones looking for them in the streets of) Metro Manila,"
The DSWD chief said the families in street situation are being housed in the agency's residential care facilities. Upon returning to their provinces, they will be provided with a livelihood grant to be monitored by the local social and welfare development office.
BP2 was implemented through Executive Order No. 114 signed by former President Rodrigo Duterte on May 6, 2020 with the primary goal of addressing overcrowding in Metro Manila.
It is also assisting informal settlers to go back to their home provinces with opportunities including the provision of transportation, sustainable livelihood assistance, and cash aid, as well as skills training programs, among others.
The DSWD is proposing to spend PHP207.37 billion budget next year to fund its flagship projects including the Food Stamp Program and the Pantawid Pamilyang Pilipino Program. (PNA)