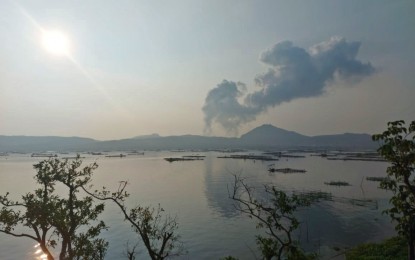 MANILA — The Department of Tourism (DOT) on Saturday advised tourists to take necessary precautions if they are traveling to areas affected by volcanic smog (vog) coming from Taal volcano.
The advisory comes as parts of Calabarzon, especially near Taal Lake area, are covered by the vog spewed by the restive Taal Volcano.
The DOT reiterated that travelers and any tourism-related business are not allowed inside the Taal Volcano Island Permanent Danger Zone, especially the main crater and Daang Kastila fissures.
"Occupancy and boating on Taal Lake is subject to advisory from respective local DRRM (disaster and risk reduction management). Civil aviation authorities have also been informed that flying any aircraft close to the volcano is not allowed," it said.
The Department of Science and Technology (DOST) said vog consists of fine droplets containing volcanic gas. It may cause irritation of the eyes, throat, and respiratory tract, especially among children and the elderly.
People in affected areas are advised to limit exposure by avoiding outdoor activities and wearing face masks as added precaution.
Those who may experience adverse effects from vog exposure are advised to seek primary health assistance.
Airline passengers are likewise advised to confirm the status of their flights before heading to airports, the DOT said.
"The health and safety, as well as the comfort and convenience of our tourists and the traveling public alike, are of paramount importance to the DOT at all times," it said.
The Department of Social Welfare and Development (DSWD) said some PHP89 million worth of assistance are on standby for Calabarzon in case the Taal Volcano unrest worsens.
"We are ready to respond once assistance is sought by the provincial governments," DSWD Assistant Secretary and spokesperson Romel Lopez said at the Saturday News Forum in Quezon City.
Of the total, Lopez said family food packs are at PHP49 million.
Philippine Institute of Volcanology and Seismology Director Teresito Bacolcol was quoted in a report by The Manila Times on Saturday that Taal Volcano is now "visible from Batangas, so basically there is no vog already." (PNA)