LETTERS FROM DAVAO
By Jun Ledesma
AT an average of 59 percent which all the survey firms have identically tallied from March to April it is most likely that the country will have a president elected by the majority.
The survey outfits have not actually factored in the endorsement of Iglesia Ni Cristo which is known for its bloc voting and the declaration of all-out-support of the Nacionalista Party headed by tycoon Manuel "Manny" Villar. The Nationalist Peoples Coalition had earlier announced its backing for the BBM-Sarah UniTeam.
Overseas voting started on April 10. Out of the many posts all over the world, only five have yet to commence voting due to transport problems of official ballots and health issues. There are still lockdown and restrictions issues like one imposed in Shanghai, China. But voting will last up to May 9, so that should give the usual "noynoying" Commission on Elections to handle their job properly. Forget about debates. It's not your line of expertise.
In Hong Kong (HK), voting had started although the Consular Office there is doing a sloppy job. There are about 93,000 Filipinos in HK but the consulate could only accommodate 3,000 daily. Why cannot the Comelec and the Department of Foreign Affairs dispatch a contingent in HK and open new voting centers to accommodate the Filipino electorate in HK. Be that as it may, exit polls conducted for those who had already cast their votes showed that about 95% voted for former Sen. Bongbong Marcos for President and Davao City Mayor Inday Sara Duterte for Vice President.
Realpolitik considered at this juncture, last two minutes in basketball, the winning bets are the most bankable. The BBM-Sara UniTeam had been doing it alone, making loose ends meet from the start of the campaign into the homestretch. They had been relying on volunteers. Even the legal team in Mindanao which is headed by lawyer Dean Ramon Edison Batacan of BMVV Law Firm is all for the cause of it. Those contributions which are expected to come can be a big help, especially on the day of the elections until the last ballot is counted out.
Comments
About the Columnist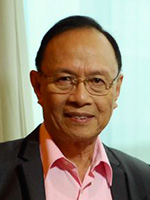 Mr. Jun Ledesma is a community journalist who writes from Davao City and comments from the perspective of a Mindanaoan.