LETTERS FROM DAVAO
By Jun Ledesma
THE signs of the times give glimpses of what's up in the future. The coronavirus disease 2019 will be with us in various variants, but how long will it persist is for science to grapple with. So much stock knowledge made possible the quick development of vaccines and which have been proven to be effective in preventing severe and critical cases. If only the manufacturers cease to make the vaccines a political weapon and diminish their greed for profit to make it affordable to poor countries, this pandemic will be much easier to control.
In sports, we have seen the emergence of a new breed of athletes. Mostly coming from the boondocks of Mindanao they are honed to overcome the many challenges their parents and their pioneering forefathers faced. They do not have the prima donna or star complex. In fact, it was only when Philippine Sports Commission Chairman Wlliam "Butch" Ramirez and Senate Sports Committee Chairman Christopher "Bong" Go took a serious look and develop the potentials of athletes from far-flung provinces in the country that we were able to discover there are vast prospects in the provinces which could dig gold, silver and bronze medals. And because they are used to the frugal lifestyle you do not hear them griping despite the desperate proddings from ABS CBN. Maybe next time we look for swimming potentials in Sulu and Tawi-Tawi, weight lifters in Cotabato, and runners in Trinidad Valley. Meantime, allow Mindanao to bask in the glory.
In politics, the signs are even more foretelling. The eagle from the jungle of Mt. Apo, an emblem attributed to Davao City Mayor Inday Sara Duterte, is soaring high. Four independent surveys conducted by Pulse Asia, Social Weather Station, Publicus Asia, and recently Octa Research placed the Davao iron lady consistently on the apogee. Hugpong Ng Pagbabago, a regional party she founded, is now backed up by at least five political parties in her eventual bid for the Presidency. This is something phenomenal in the annals of the Philippines fractious politics. I say "at least" because the Nacionalista Party and the ruling PDP-Laban which have not named any potential presidential bet are aligned with Pres. Rodrigo Duterte and the heir apparent of this advantage is of course the presidential daughter.
Like the Filipino Olympians from Mindanao, Sara Duterte saw the face of insane extremist terrorism, bloody communist insurgency, the brutalities of syndicated crime, and how Davao City metamorphosed into the most livable city in the country, most competitive, clean, and child friendly. As Mayor of the commercial, communications, and growth center of Mindanao she sustained the bureaucratic discipline instituted by her father and during her term raised the economic growth of Davao City to 9 percent. She went ahead with dramatic and radical development projects in the city which were never on the drawing board of her father and her father's predecessors.
Inday Sara is Mindanao's own champion. She faced her own challenges, threats and won her battles. Not a few senators, ex-justice mayors, boxers, and even one that is just one breath away from the presidency, who aspires to be president had gone through and been sharpened with a whetstone that had molded her to be a strong and courageous leader. She is Mindanao's best bet.
Comments
About the Columnist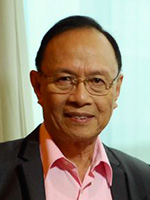 Mr. Jun Ledesma is a community journalist who writes from Davao City and comments from the perspective of a Mindanaoan.