LETTERS FROM DAVAO
By Jun Ledesma
Trouble hounds Partido Reporma
THE unceremonious ditching of Senator Panfilo Lacson as the presidential candidate of Partido Reporma by the party President Pantaleon Alvarez in favor of Leni Robredo of the Liberal Party has triggered a major disorganization and disorientation in its ranks and dwindling supporters.
During the grand rally of Hugpong ng Pagbabago in Carmen, Davao del Norte which was attended by BBM-Sara UniTeam, Mayor Al David Uy and Vice Mayor Chang Gwendolman unexpectedly showed up surprising everybody in attendance. The duo are known supporters of Partido Reporma re-electionist governor Edwin Jubahib.
Mayor Al David, who remains to be a member of PDP-Laban, had a picture taken with him and HnP gubernatorial candidate Roy Catalan and HnP 2nd District re-electionist Alan Dujali along with VM Chang. Al David who is virtually running unopposed as Mayor of the vote-rich Island Garden City of Samal obviously followed the party line when the ruling party declared and endorsed Bongbong Marcos as the PDP-Laban candidate for President. The mayor is also known as an ardent supporter of Davao City Mayor Inday Sara Duterte.
In Tagum City, not a few members of Partido Reporma including some members of the City Council have expressed disappointment over the unilateral decision of Alvarez to shift the party's support for Robredo. They also expressed frustration over the sudden dumping of Lacson on account of the ₱800-million demand of Alvarez which Senator Ping declined to give.
Bebot later claimed that the amount was intended for watchers. Ping who was a top cop before becoming a senator must have smelled something fishy. He knew that Partido Reporma only had a handful of candidates and only in Davao del Norte and Davao de Oro. The two provinces have about 2,000 clustered precincts. Comelec allows only two watchers in each clustered precinct. By simple calculations the budget for watchers definitely will not exceed ₱20-million so what was the ₱800-million for?
The rumor quickly spread that when Leni Robredo hurriedly scooted to Davao and had a media coverage done on the formal announcement by Alvarez and his ever-loyal side-kick Edwin Jubahib, an agreement had been forged and that there was money delivery. For Lacson, whose recent survey results could only manage less than 3 percent, however, never bothered himself with what happened to their accord with Alvarez. As far as he is concerned his integrity is intact and that is what really matters. And that speaks loudly against Leni and her new recruit Bebot Alvarez.
₱800-million may be converted to votes but in the case of Alvarez and Robredo this source of evil and betrayal took a bad turn while Lacson is tickled pink.
Comments
About the Columnist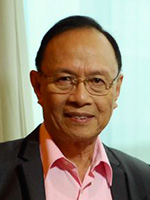 Mr. Jun Ledesma is a community journalist who writes from Davao City and comments from the perspective of a Mindanaoan.