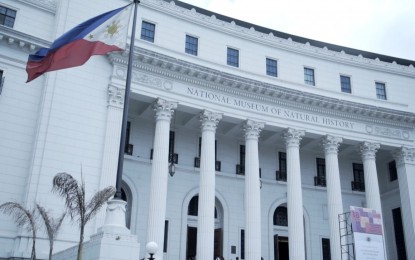 MANILA -- In line with the celebration of International Museum Day, the National Museum of Natural History (NMNH) has opened its doors to the public.
National Museum of the Philippines (NMP) chairman Ramon del Rosario said that "the Natural History Museum is a place where knowledge, appreciation and love for heritage as Filipinos and as people in the fields of anthropology, fine arts, natural world and historical contexts can be found."
"This museum is about instilling sense of pride in our heritage, cultural background, natural endowments and we hope that by having an outstanding museum for this nature in Metro Manila, a lot of generations of Filipinos particularly the young ones will begin to appreciate what being a Filipino is all about and why we're proud of being Filipinos," he told a press conference on Friday.
Del Rosario said the museum is a four-year project which they inaugurated two years ago after the Tree of Life - a glass and aluminum dome with a scenic elevator in it - has been completed.
"We decided it's good to acknowledge completion in phases but until now it's not yet complete. It's still a work in progress," he said.
NMP Board of Trustees member Maria Isabel Ongpin said that "the museum aims to showcase Philippines as the center of biodiversity."
"Philippines' biodiversity, flora and fauna and the design, the culture and the adaptation to the environment, what we have here is the product of our environment, this is a study and definition of Filipino identity," she said.
Apart from appreciating the biodiversity, cultural diversity and unique geological formation of the Philippines, NMNH Assistant Director Dr. Ana Labrador said they want the visitors of the museum to feel "a sense of ownership."
"They'd feel that this is our museum...feeling of ownership... and besides making it universally accessible not only a didactic education program, the goal is to make goers curious about the things around them," she said.
In 1998, the project was first initiated through the National Museum Act under the administration of former President Fidel Ramos.
"This is a collaboration of the administrations from Ramos to Duterte. During Aquino's administration, they allotted a huge budget for this project and decided to implement it. Duterte continued the project and saw it through its completion," del Rosario said.
"This is also a collaboration of the government and the private sectors. Part of the museum was a gift from the private sector, theTree of Life, without it, the museum would look much simpler without it so we convinced the private sector to pull some funds and erect this magnificent structure, they donated in kind," he added.
Only six galleries were opened to the public as the rest are still being refurbished.
"Half of the galleries are not yet open because they're not yet ready. We wanted everyone to see them once they're perfect so over the next weeks we might be opening the galleries, hopefully on June 19 our national hero's birthday, we'll be successful with all the galleries," NMNH Director Jeremy Robert Barns said. (PNA)