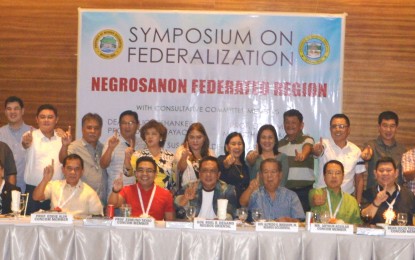 BACOLOD CITY -- The push to reunite the two Negros provinces under one federal region continues as the Consultative Committee (ConCom) reviewing the 1987 Constitution is in the process of finalizing revisions that would pave the way for a federal republic.
The creation of the Negrosanon Federated Region was discussed during the one-day Symposium on Federalization that was initiated by Negros Occidental province and held at the Sugarland Hotel here on Friday.
Negrense Arthur Aguilar, chairperson of the subcommittee on economic revisions, said he does not really know if President Rodrigo Duterte would approve a one Negros federal region.
"What we do know is that when we met with him in a closed-door meeting, he said, 'It is up to you, study it. You study it and come up with your recommendations,'" he said.
Aguilar said the ConCom will not ask the President to reverse the executive order (EO) that abolished the Negros Island Region (NIR).
"In our committee, since it's very strategic, we don't do administrative, we're not going to touch that," he said.
"We're saying that when we do the architecture, the Island of Negros as a separate federated region is one of them. If it goes through the mill, then so be it. He need not make any more decisions on his EO," Aguilar added.
He suggested that the island do away with the name Negros, which has a negative racial connotation, and should go instead for Negrosanon Federated Region, and refrain from using the colonial terms Occidental and Oriental in naming both provinces.
"We might as well go for our native names," he said, adding that Negros Occidental, situated in the west, can be named as Natundan Negrosanon while Negros Oriental, located in the east, as Sidlakan Negrosanon.
Aguilar also pointed out that the regional capabilities and potentials of Negros Island, which has a population of 4.6 million, make it ready to become a stand-alone federated region.
He noted that based on income tax collection, Negros Island ranks 10th among the list of 17 revenue regions and revenue district offices.
In terms of financial position, Negros Island is fifth in cash balance.
Both Negros provinces are among the top 10 provinces, cities and municipalities with the highest amount of net assets/equity -- Negros Occidental is fifth while Negros Oriental is seventh. Negros Occidental is number one in terms of total revenue.
"The Negrosanon Federated Region possesses the critical mass of being a stand-alone federated region that is viable in all respects and is ready to launch upon the approval of the new Federal Constitution," Aguilar said.
Aguilar was joined by four other ConCom members during the activity.
Dean Julio Teehankee gave a presentation on the proposed structure of the federal republic and political reforms; Prof. Edmund Tayao, on the federated regions, powers and possible structure options; lawyer Susan Ubalde-Ordinario, on the judiciary and constitutional bodies; and Prof. Eddie Alih, on the Bill of Rights and Bangsa Moro and other provisions.
The symposium was attended by representatives of various sectors, including local officials led by governors Alfredo Marañon Jr. of Negros Occidental and Roel Degamo of Negros Oriental. (PNA)