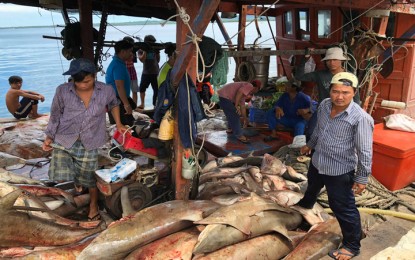 PUERTO PRINCESA CITY, Palawan -- The 20 Vietnamese fishermen who were arrested by the Philippine Navy inside the country's territorial waters in Palawan for alleged illegal entry and poaching of 175 assorted species of sharks and manta rays were brought to the Provincial Prosecutor's Office (PPO) for inquest on Wednesday.
The Palawan Council for Sustainable Development Staff (PCSDS) and the Bureau of Fisheries and Aquatic Resources (BFAR) charged the 20 Vietnamese fishermen working on board a Malaysian-registered fishing vessel with poaching.
Provincial Court Prosecutor Allen Ross Rodriguez said the inquest originally scheduled Tuesday afternoon did not push through as the PCSDS and the BFAR were unable to finish the documents before 5 p.m.
Rodriguez, who will investigate the poaching charges, said the PCSDS and BFAR have to thoroughly identify the species of the sharks and rays the Vietnamese fishers had on the Malaysian-registered fishing vessel to determine other cases.
He said the evidence and proof must be detailed for the prosecutor's office will depend on the documents that they will present.
"There's a need for technical details to determine what other possible charges can be filed against them. If the details are complete, we can make them our basis. They had to be seen by the court as they are evidence," he said.
The filing of illegal entry cases will be determined by the Provincial Committee on Illegal Entrants (PCIE), a special body created and task to handle foreign encroachment in Palawan waters, chaired by the commander of Western Command (Wescom) under Lt. Gen. Rozzano Briguez, he said.
As of this posting, no information has been received yet if the PCIE has already convened regarding the matter.
Meanwhile, Jovic Fabello, spokesperson of the PCSDS, said on Wednesday that the number of manta rays that were confiscated from two of three Vietnamese fishing vessels had already reached 160 and 15 sharks, as of latest inventory.
"The sharks and rays had been returned to the boat for storage because we don't have anywhere to put them. We are discussing if we have to bury them," he said.
The 20 Vietnamese fishermen were arrested on board Malaysian fishing vessels that were accosted by PC 375 of the Philippine Navy off Mangsee Island, Balabac, on Saturday. (PNA)