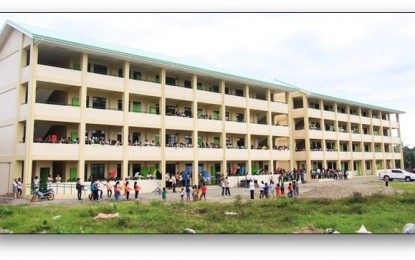 TACLOBAN CITY -- The Department of Public Works and Highways (DPWH) has constructed 753 out of 1,302 school buildings in Eastern Visayas funded under the 2016 and 2017 Basic Education Facilities Fund (BEFF) of the Department of Education (DepEd).
The construction of at least 523 school buildings are ongoing while 26 projects have not yet begun as of last month, based on the report released by the DPWH 8 (Eastern Visayas) on Tuesday.
DPWH-8 Director Edgar Tabacon said some projects have been delayed due to several issues, such as poor accessibility of school sites, soil test failure, or the fund allocation is lower than the actual need.
"We did a lot of review because for some projects, the cost estimate is way below the actual requirement. It entails more budget to build classrooms in remote villages and island towns, but the allocation under BEFF is the same for all sites," Tabacon told the Philippine News Agency (PNA).
The two-year school building projects in six provinces of the region obtained a combined budget of PHP9.39 billion.
"New school building projects are multi-storey structures, which require more stable soil. The biggest challenge is finding the most suitable site for high-rise school buildings," he added.
In a statement issued earlier, the education department said delays were encountered early on as DepEd and DPWH "fastidiously" conducted its joint validation of school sites.
"The unavailability of funds for soil testing and the need to review existing classroom designs were also issues at the onset, as these factors necessitated the computation of new rates and costing for construction," the DepEd said.
The design of the new school buildings has been upgraded to withstand strong winds and earthquakes, Tabacon added.
The structural component of the buildings, such as the footing, columns, and beams, have been expanded for safer and more conducive learning for students.
Of the 1,302 school building projects, 103 are in Biliran province, 335 in Eastern Samar, 463 in Leyte, 90 in Northern Samar, 129 in Samar, 132 in Southern Leyte, and 50 in Tacloban City.
DepEd Eastern Visayas regional information officer Jazmin Calzita expressed hope that the school building projects would be completed soon to accommodate more senior high school learners (SHS).
"The problem of classroom shortage is more serious among SHS enrollees and our goal is to address this through BEFF in the next five years," Calzita said, adding that a single classroom is sometimes occupied by 90 SHS learners, way beyond the ideal ratio of one classroom for every 40 learners.
Eastern Visayas has 1.24 million enrolled learners both in public and private elementary and secondary schools. The region has 40,684 classrooms managed by 47,334 teachers and 7,485 DepEd non-teaching personnel. (PNA)