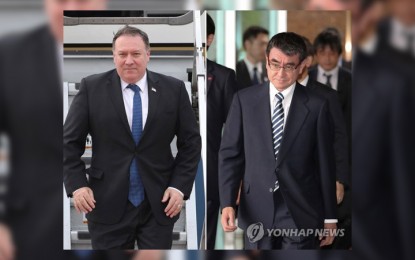 SEOUL -- The top diplomats of South Korea, the United States and Japan will hold talks in Seoul on Thursday on ways to keep the momentum of the Pyongyang-Washington summit talks, Seoul's foreign ministry said.
Secretary of State Mike Pompeo arrived in the capital Wednesday for a bilateral meeting with his South Korean counterpart Kang Kyung-wha and a trilateral session involving Japan's Minister Taro Kono, who landed here the same day.
In advance of the talks, he plans to meet with President Moon Jae-in at his office Cheong Wa Dae. The secretary is expected to brief them in detail on the results of the summit meeting between President Donald Trump and the North's leader Kim Jong-un held in Singapore on Tuesday.
In a joint statement, Kim agreed to the "complete denuclearization" of the Korean Peninsula and Trump vowed security guarantees for the communist nation in pursuit of "new relations" between the longtime adversaries.
Pompeo will lead Washington's follow-up negotiations with Pyongyang, of which schedule has not been announced yet.
"I will be the person who takes the role of driving this process forward," he told reporters.
He's expected to sit down with a high-level North Korean official as early as next week. He said the denuclearization process will make significant progress by the end of Trump's first term in early 2021.
On the outlook for "major disarmament," the former CIA director said, "We're hopeful that we can achieve that in the next 2 1/2 years, something like that."
He dismissed criticism about the summit accord without the term "compete, verifiable and irreversible denuclearization" (CVID).
"Let me assure you that the 'complete' encompasses verifiable in the minds of everyone concerned," he stressed. "One can't completely denuclearize without validating, authenticating." (Yonhap)