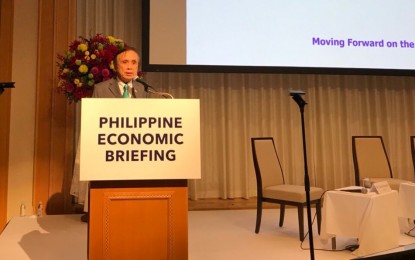 MANILA -- Socioeconomic Planning Secretary Ernesto Pernia on Tuesday told the Japanese business community and other stakeholders that the Philippines remains one of the best performing economies in the region.
"National and international observers have remarked that the Philippine economy has entered the golden age, on its goldilocks years. It's easy to agree because our economy has, indeed, been performing very well over the past five decades. And we may not even have seen yet its best ever, given the favorable circumstances the economy finds itself in," Pernia, who is also National Economic and Development Authority (NEDA) director-general, told potential investors at the Philippine Economic Briefing in Tokyo, Japan.
He said the country is currently looking into previously untapped products with export potentials to help sustain its growth momentum amid possible headwinds.
Pernia also noted the country's manufacturing resurgence, which he expected to continue as foreign investors are recognizing the potential of the Philippines as a manufacturing hub.
"The general outlook for global growth seems brighter this year at 3.9 percent than 2017's, with stronger growth in the US (United States) and emerging markets. However, we are conscious of possibly strong headwinds appearing on the horizon, as the trade and financial environment is appearing to be less supportive," he said.
The NEDA chief said that the government is closely monitoring these developments.
It is also on the lookout for ways to counter possible downturns, such as exploring how to regain lost market share in agricultural products, especially in countries like Japan and South Korea, he added.
"Now is the time for our international friends, especially in Japan, to partner with us toward our country's self-sustaining and inclusive growth," he said.
Pernia cited the Export Potential Map of the International Trade Centre which identified Philippine products with the greatest export potential to Japan, having an estimated total untapped potential of USD1.6 billion.
These products include smart cards, electronic integrated circuits and light-emitting diode (LED) lamps, categorized under electronic equipment. Other products with substantial untapped export potential are ignition wiring sets for vehicles and computer data storage units.
Japan was the Philippines' second top trading partner in the first quarter of 2018, with total trade amounting to USD4.9 billion. (PNA)