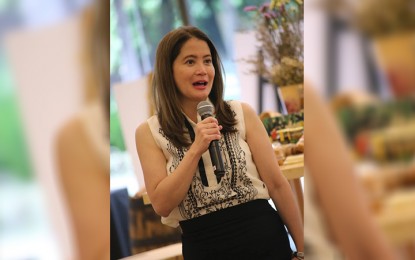 MANILA -- Tourism Secretary Bernadette Romulo-Puyat announced on Wednesday that the 4th edition of Madrid Fusión Manila (MFM) will not push through this year but assured it will take place in 2019.
"Why will it not push through? There's still a bidding, it hasn't started yet," she said in Filipino, adding that the process may possibly reach conclusion in July or August. "The Madrid Fusión was supposed to be in September, there's not enough time."
The Tourism Promotions Board in April said the gastronomy congress was scheduled on September 25 to 29, but the Tourism chief stressed she would rather not rush the bidding process.
"I'd rather do it properly, do not rush things up. I've already talked to the organizers abroad, I said we lacked time," she added. "As much as I love Madrid Fusión, and as much as it pains me (to let it go this year), it's my baby, we have to do what is right, let's not push hard for it."
Romulo-Puyat said the organizers have already agreed to hold the 4th edition next year, but there will be changes in the format, including the inclusion of more farmers.
"The 4th year was supposed to be this year, the fourth year will be next year," she said.
'MFM promoted local'
At a press briefing in Manila, Romulo-Puyat vouched that the MFM had promoted local produce and bared she took offense at reports mudslinging Madrid Fusión for solely promoting the Spanish cuisine.
"It is a game changer, it actually put agriculture on the map, it gave importance to our farmers," she said. "I took offense when people said that Madrid Fusión only supported the culture of Madrid, only supported foreigners and only supported foreign ingredients because in the Department of Agriculture, I had 15 Filipino chef volunteers every day, it's a three-day event."
The 1st edition of Madrid Fusión Manila in 2015, similar to the succeeding ones, sourced ingredients from Luzon, Visayas and Mindanao, representing the three-day events respectively.
"We were promoting for the first day Luzon, and we were able to bring in lobsters from Isabela. We were able to bring in all these ingredients that you could only get in Luzon, Visayas and Mindanao," said the secretary.
The official noted that it was then Davao Mayor Rodrigo Duterte who donated ingredients from Mindanao for the 3rd day of the MFM.
"Not too many people know, and people were saying that President Duterte disliked the Madrid Fusión, that is fake. Fake news. The person who donated my ingredients for the third day for Mindanao was then Mayor Rodrigo Duterte."
"He was so supportive of Madrid Fusión, even in 2016 he was already supportive. In the third year, we weren't sure if it would push through, he even made a video saying he is supporting Madrid Fusión," the secretary recounted.
Present in all the editions of the MFM, Romulo-Puyat narrated how the event made both local and international chefs appreciate Filipino produce.
"(Some people) were saying the agriculture was not promoted, that's impossible because right after that, almost all the restaurants started going local, farm-to-table restaurants it became the vogue," she said.
After the 2015 MFM, Romulo-Puyat also shared how chefs joined her in farm trips to meet Filipino growers. "They want to meet the farmers, they want to see how our food grows, and they want to buy straight from the farmers."
Amanpulo, one of the most expensive resorts in the Philippines, was one example, Romulo-Puyat said.
"A few months ago, the executive chef asked me, 'we only want to go local.' Their risotto is made of Tinawon heirloom rice from Ifugao. I gave them all the rice from all over the country, they chose the heirloom rice from Cordillera, the Italian chef said 'This is the closest grain we have in Italy, we love the Tinawon,'" she narrated.
"When you open their refrigerator, it's Risa Chocolates, that's cacao from Tupi, South Cotabato," she added. "So imagine everybody is now going local. I really believe that's because of Madrid Fusión." (PNA)