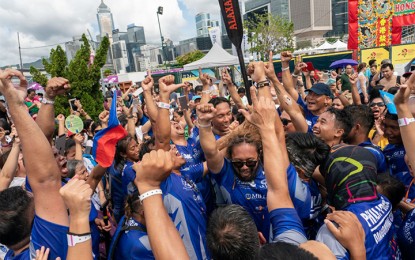 MANILA – Cebu-based Philippine Accessible Disability Services Inc. (PADS) Dragonboat Team brought home the gold, winning first place two years in a row at the International Para Dragonboat Championships.
The team collected a total of 14 points in the two-legs of the 400m standard boat international paradragon division. PADS bested six other teams in this division.
Organized by the Hong Kong Tourism Board (HKTB) and co-organized by the Hong Kong China Dragon Boat Association, the Hong Kong Dragon Boat Carnival rolled out its 9th edition from June 22-24, 2018 at the Central Harbourfront and Victoria Harbour.
"We dedicate this victory to the plight of thousands of Filipinos with disabilities. We also want to dedicate this triumphant win to our Filipinos in Hong Kong who took care of the needs of the team and took a stand to leave their day jobs, and cheered side by side with the team. May this win uplift their hearts and national pride. Our back to back championships and success story are living testimonies nothing is impossible in sports," a spokesperson for PADS said.
This year, about 160 teams with over 4,500 athletes from all over the world, including Australia, Canada, France, Israel, Japan, Korea, Macau and Hong Kong, China, Malaysia, New Zealand, Singapore, Taiwan, Philippines, and the US, battled for a total of 27 championships, including the newly introduced "Greater Bay Area Trophy" and the much-loved "Fancy Dress Competition".
The three-day Carnival featured fun-filled elements, with local delicacies, music and other entertainment, guaranteeing a variety of great summer fun for visitors and locals.
As this year's Dragon Boat Festival ends on a high note, dragon boat enthusiasts are already gearing up for the much-anticipated event's 10th edition next year. (HKTB PR)