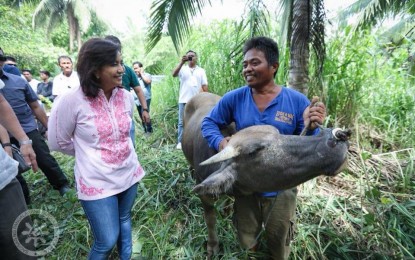 GANDARA, Samar -- The distribution of 15 carabaos (water buffalo) from the Office of the Vice President (OVP) will ensure stable supply of raw materials for locally-produced white cheese.
Marietta Bernales, owner of Mayette's Queseo, said on Monday that with this initiative, they don't have to source out carabao milk from Bohol to produce the white cheese locally known as keseo.
Keseo is made out of native carabao's milk preserved on vinegar and salt. The liquid transforms into white cheese through boiling. It is the oldest home-based industry that made the town popular.
For several years, Bernales has been buying carabao's milk in Bohol for PHP80 per jug (20 liters) or PHP20 lower than the price set by local producers. Bernales needs 100 liters of milk for every production cycle.
The scarcity of locally-produced carabao milk affected keseo processing. The cost of shipping the milk from Bohol prompted them to adjust the price of their product.
From the previous PHP80 per pack of keseo, the price rose to PHP110. Retailers sell the product at PHP150. These retailers include Savemore Tacloban, Robinsons Place Tacloban, Island City Mall in Bohol, van terminals, and Monterey meat shop.
On Friday, Vice President Leni Robredo turned over 15 female carabaos to local farmers here with the hope of helping cheese producers and farmers create value-adding activities.
The initiative is part of the Angat Buhay, a flagship program of the Office Vice President to help far and economically-depressed communities.
"I am thankful that there are local chief executives who are very concern on the welfare of their constituents by focusing on projects that will improve the lives of the people just like our aim in the Office of the Vice President," Robredo said.
"Our dream is for the organization that we helped to also extend assistance to others who are in need when they are already successful through the help that we provided them," Robredo said in her speech shared on her social media account.
Gandara Mayor Eufemio de los Santos Oliva describes the turnover and the Vice President's visit as a history repeating itself.
Oliva recalled that then Vice President Gloria Macapagal-Arroyo visited their town and distributed 15 carabaos.
"This will complement the infrastructure projects implemented by the local government and Rep. Edgar Mary Sarmiento linking villages through road networks to help farmers transport their farm produce," Oliva said.
The 15 carabaos, according to Oliva, are intended for people's organization composed of persons with disabilities, senior citizens, single parents, retirees and farmers group.
Robredo also visited the towns of Balangkayan and Salcedo in Eastern Samar for the groundbreaking of dormitory for poor students from remote villages, provided multicabs to transport school children, turn over solar dryers form cassava chips production, and distribute sports equipment for school children. (PNA)