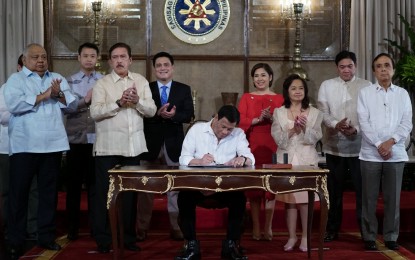 MANILA -- President Rodrigo R. Duterte on Monday signed into law the Philippine Identification System Act which seeks to integrate the various government IDs of all citizens and foreign residents in the country.
Duterte affixed his signature on Republic Act 11055 on the same event that an equally important measure, the Bangsamoro Organic Law (BOL), was presented to Moro Islamic Liberation Front (MILF) Chair Al Haj Murad Ebrahim at the Malacañang Palace.
"Today, I signed into law the Philippine Identification System Act, a measure that will establish a single national identification system that will provide good governance, enhance governmental transactions and create a more conducive environment for trade and commerce to thrive," Duterte said in his speech.
At present, some of the government-issued IDs include the Unified Multi-Purpose ID or UMID issued to the members of the Social Security System (SSS) and Government Service Insurance System (GSIS); Philippine Health Insurance Corporation (PhilHealth); Tax Identification Number (TIN); and the Home Development Mutual Fund (Pag-IBIG Fund).
Duterte appealed to support the National ID system or "Phil-ID" which also seeks to promote the efficient delivery of services and to lessen corruption and red tape in the government.
"This will not just enhance administrative governance but reduce corruption, curtail bureaucratic red tape, and promote the ease of doing business, but also avert fraudulent transactions, strengthen financial inclusion, and create a more secure environment for our people," he said.
The President allayed fears peddled by some groups that the National ID would infringe privacy and personal data of the Phil-ID holders.
"Let me be very clear about this: The information that will be included in the Phil-ID will not be any different from the information already in the possession of the Philippine Statistics Authority or the former NSO, GSIS, PhilHealth, Pag-IBIG Fund, COMELEC, and other agencies that gather personal data," Duterte said.
He said the Philippine Statistics Authority (PSA) will work closely with the National Privacy Commission, the Department of Information and Communications Technology, and the multi-agency PhilSystem Policy and Coordination Council to address all concerns pertaining to privacy and security.
"There is therefore no basis at all for the apprehensions about the Phil-ID, unless of course that fear is based on anything that borders to illegal," Duterte said.
"If at all, the Phil-ID will even aid in our drive against the social menaces of poverty, corruption and criminal issues, as well as terrorism and violent extremism," he added.
Duterte expressed his appreciation to the two houses of Congress, led by Senate President Vicente Sotto III and House Speaker Gloria Macapagal-Arroyo, for passing the Phil-ID and BOL.
He also thanked former Senate President Aquilino 'Koko' Pimentel III and former House Speaker Pantaleon Alvarez for their active involvement in the passage of both measures.
"Indeed, the passage of these laws speak well of their able leadership and firm resolve to rise above divisive partisan politics," Duterte said.
Both the Senate and the House of Representatives ratified the national ID system on May 29 and 30, respectively.
Senator Panfilo Lacson, chairman of the Senate committee on public order and dangerous drugs, spearheaded the passage of the Palace-backed bill.
"I ask everyone to join me as we decisively implement measures that will create an environment where our people's concern will no longer be center on their safety and security, but on charting a future they can proudly bequeath to succeeding generations," Duterte said.
Duterte signed the BOL or R.A. 11054 two days after his State of the Nation Address (SONA) on July 23. (PNA)