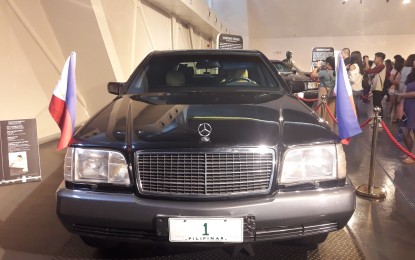 MANILA -- The National Historical Commission of the Philippines (NHCP) and the Quezon City (QC) government inaugurated on Sunday the Presidential Car Museum inside the Quezon Memorial Circle in Quezon City.
Presidential Spokesperson Harry Roque, NHCP Chairman Rene Escalante, NHCP Acting Executive Director Ludovico Badoy and QC Mayor Herbert Bautista led the ceremonial ribbon-cutting to open the museum to the public.
The museum showcases a total of 12 presidential vehicles which have been restored and maintained by NHCP to ensure that their state-of-the-art features and the history they hold are preserved.
In his speech, Escalante said the museum is the first of its kind in the country and the vehicles it features are "testaments to the dignity of the office of the highest elected official of the land and reflections of the presidents' personalities and preferences who have used them.
In an interview, Roque said as a QC resident, he is proud that the Presidential Car Museum was built in the city.
"These cars are really part of our nation's history and each one of them had a story to tell and I think all the young people of this country should be able to come and visit because napakaganda ng mga kwentong sinasabi nila doon sa panahon kung kailan namuno ang mga presidenteng namuno na sumasakay sa mga kotseng ito (because the stories they tell about the time when the presidents rode them are very beautiful)," he said.
When asked which of the cars fascinated him the most, Roque said former first lady Imelda Marcos's Rolls Royce caught his attention because he thought only Marcos shared the same car with Queen Elizabeth.
"I was surprised that we had a Rolls Royce for a presidential car, hindi ko lang po alam kung allowed ang plate number ng First Lady ay 1," he added.
Roque said President Rodrigo Duterte is currently using a Land Cruiser which is a private property.
The museum holds all the presidential cars from Emilio Aguinaldo's regime up to Gloria Macapagal-Arroyo's term, except for Sergio Osmeña's car which is in Cebu and Carlos Garcia's car which the NHCP was unable to recover.
Meanwhile, the museum also holds a special section for the Rolls-Royce Phantom V of former First Lady Imelda Marcos, Willys Jeep donated by General Douglas MacArthur who served as the vehicle of Secretary of National Defense Ramon Magsaysay during the Quirino Administration, Cadillac V16 Transformable Town Car Cabriolet used by Pres. Manuel Quezon and General Douglas MacArthur, and a carriage or kalesa used by Leon Apacible, one of the authors of the 1899 Constitution, in Malolos.
The NHCP and the QC government signed last year a Memorandum of Agreement mandating the establishment of the Presidential Car Museum at the Quezon Memorial Circle with a lot measurement of not less than 3,000 square meters.
The museum is open to the public for free from 8 a.m. to 4 p.m. Tuesday to Sunday. (PNA)