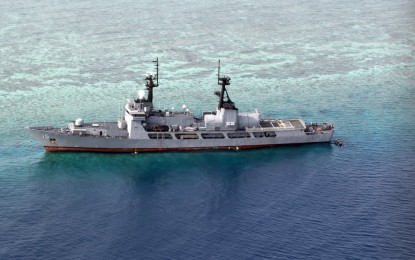 MANILA -- Department of National Defense Secretary Delfin Lorenzana on Friday confirmed that Navy flagship, the 3,250 gross ton BRP Gregorio Del Pilar (FF-15) ran aground on Wednesday in Hasa-Hasa Shoal (international name Half Moon) which lies 65 nautical miles off Balabac, Palawan.
He added that the Philippine Navy (PN) is still assessing the damage sustained by the frigate before towing it clear.
"That is true (grounding of BRP Gregorio Del Pilar in Hasa-Hasa Shoal) It is still there and the Navy is still assessing damage before pulling it out," Lorenzana said in a message to the Philippine News Agency (PNA).
The ship is one of three Hamilton-class cutters acquired by the PN from the United States Coast Guard and converted into frigates.
These ships have a gross tonnage of 3,250 tons, a length of 378 feet, beam of 43 feet, and draft of 15 feet while its propulsion systems consist of two diesel engines and two gas turbine engines, giving it a top speed of 29 knots.
These vessels have a cruising range of 14,000 miles and has a sea and loiter time of 45 days and armed with a 76-mm. Oto Melara automatic cannon, 25-mm. and 20-mm. light cannons and .50 caliber machine guns.
Col. Noel Detoyato, Armed Forces of the Philippines (AFP) public affairs office chief, said, "All afloat vessels in the Western Command area have already been mobilized to conduct assessment, retrieve the aground vessel and return her to safe harbor, and assist all personnel aboard BRP Del Pilar."
Other assets from nearby AFP installations are also on standby for any contingency, he added.
Initial reports showed that none of the personnel on board have been hurt due to the incident.
"An investigation is expected in such situations to find out the possible causes of the grounding and to come up with steps to ensure that similar incidents will be prevented," Detoyato added. (PNA)