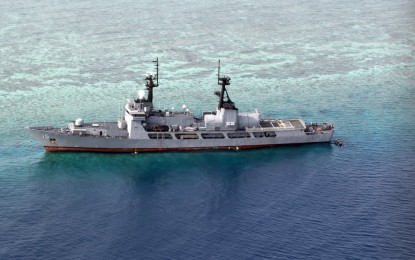 MANILA -- The Armed Forces of the Philippines (AFP) has assured that the BRP Gregorio Del Pilar, one of the Philippine Navy's largest warships, is still operational after it sustained minimal damage when it ran aground in the vicinity of the Hasa-hasa Shoal in Palawan Wednesday night.
The impact did not cause any heavy damage to the ship's hull, AFP public affairs office chief Col. Noel Detoyato said Friday.
"Damage to the hull is very minimal," Detoyato said, adding that the starboard or right propeller sustained damage due to the grounding.
He, however, maintained that the port or left propeller and engines remained intact.
Detoyato said two tugboats from Batangas have already been deployed to aid in the recovery of the BRP Gregorio Del Pilar, with one leaving Thursday afternoon and another later on Friday.
These small craft are expected to reach the grounded frigate in two days and will be used in removing it. The grounding site is being secured by other naval assets in the area.
The ship is one of three Hamilton-class cutters acquired by the PN from the United States Coast Guard and converted into frigates.
These ships have a gross tonnage of 3,250 tons, a length of 378 feet, beam of 43 feet, and draft of 15 feet while its propulsion systems consist of two diesel engines and two gas turbine engines, giving it a top speed of 29 knots. They have a cruising range of 14,000 miles and a sea and loiter time of 45 days. They are armed with a 76-mm. Oto Melara automatic cannon, 25-mm. and 20-mm. light cannons, and .50 caliber machineguns.
"An investigation is expected in such situations to find out the possible causes of the grounding and to come up with steps to ensure that similar incidents will be prevented," Detoyato said. (PNA)