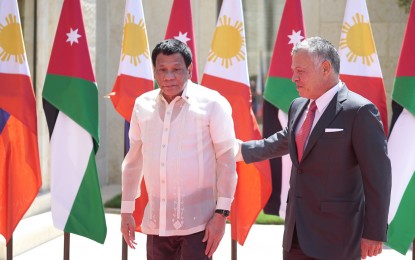 MANILA -- Special Assistant to the President (SAP) Christopher "Bong" Go on Thursday said the Philippines will get two Cobra helicopters from Jordan.
Go relayed this information to Palace reporters through text message, saying the second-hand helicopters will be delivered in July next year after the training of the Filipino pilots.
Go made the confirmation as the Philippines's Department of National Defense (DND) and the Jordan Armed Forces-Arab Army signed a Memorandum of Understanding (MOU) on defense cooperation.
DND Secretary Delfin Lorenzana and Joint Chiefs of Staff chairman, Lt. Gen. Mahmoud Freihat, signed the MOU on Thursday during the three-day official visit of President Rodrigo Duterte in Jordan.
The defense cooperation MOU was just one of the five agreements signed between the Philippines and Hashemite Kingdom of Jordan.
The four others include:
MOU on political consultations signed by Ministry of Foreign Affairs and Expatriates of Jordan Mr. Ayman Safadi and the Philippines' Department of Foreign Affairs Secretary Alan Peter Cayetano;
Agreement between the Jordan Maritime Commission and the Maritime Industry Authority of the Philippines concerning the Recognition of Certifies under the Terms of the 1978 STCW (Standards of Training, Certification, and Watchkeeping for Seafarers) Convention. Salah Ali Abu Afifeh, director general of the Jordan Maritime Commission and Ambassador of the Philippines to Jordan Akhmad Atlah Sakkam signed the deal;
Cooperation Framework for Employment of Domestic Workers and MOU on Labor Cooperation signed by Minister of Labour Samir Murad and Labor Secretary Silvestre Bello III; and
MOU between the Jordan Investment Commission and the Board of Investments-Philippines signed by Minister of State for Investment Affairs Mr. Muhannad Shehadeh and Trade and Industry Secretary Ramon Lopez. (PNA)