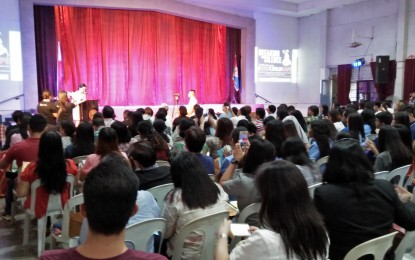 ILOILO CITY -- Ilonggo stakeholders gathered to express support behind the campaign to increase the age of sexual consent for statutory rape to at least 16 or older to protect children's rights against exploitation.
Dubbed "Breaking the Silence: A Policy Forum to #EndChildRape", a forum organized by the Cameleon Association Inc., a non-government organization that works for the prevention of child abuse and held at the University of the Philippines Visayas- Iloilo City campus on Tuesday, is part of the series of public information campaign to raise awareness about the issue.
Romeo C. Dongeto, Executive Director of the Philippine Legislators Committee on Population and Development and part of the Child Rights Network, said they wanted to increase the age to at least 16 so that children know how to protect their right against exploitation.
At present, the Philippines statutory rape law is only violated when an individual has consensual sexual activity with a person under the age of 12.
"Amid a lot of issues on children, we hoped that the public will be aware that this issue is equally important. We will soon file a bill and we are discussing with our champions in Congress to file a bill on this," he said.
Lawyer Marj Ardivilla, child protection specialist of the United Nations Children's Fund (UNICEF) in the Philippines, who talked about "The Child and The Law", in an interview said that in addition to increasing the age to 16, they will also push that the protection be extended to boys.
"We are saying that the sexual violence against boys is as traumatic as sexual violence against girls," she said.
She added that in Iloilo, the 12 to 18 age group was recorded to have the highest cases. In the 2015 baseline survey on the violence against children, there was a spike in forced consummated sex (rape) between 13 to 15, ages that are not protected by the law.
"It means that one Filipino child in 25 is raped. In a bigger scale of sexual violence, one out of five Filipino children has experienced other forms of sexual violence," she added.
During the forum, Senators Sherwin Gatchalian and Risa Hontiveros also shared the amendments that they introduced to the existing Anti-Rape Law.
Gatchalian, who authored Senate Bill 1575, said there are loopholes in the law that allow minor children to be abused.
"Most of our laws are at 18. That is the universal law when it comes to minors. We made it consistent and to also avoid sexual predators," he said in an interview. He cited there are statistics showing that mostly of those who are abused are between the 16 to 17 age group.
Gatchalian and Hontiveros both proposed that the age be increased to 18 years old.
"I think for consistency purposes, and also to address the realities of our problems, in my opinion it has to be raised to 18," Gatchalian said.
In addition to increasing the age, he also proposed in his bill interventions so that victims of abuse can return to and live a normal life.
Hontiveros said Senate Bill 1252 "also emphasizes the absence of consent as essential component of the crime of rape". She also underscored the significance of having social institutions where survivors can seek refuge.
"We want them to reclaim peace of minds, move forward and flourish. At the same time, the real goal is for no child, woman or man to ever be a victim in the first place," she added.
She also lauded the holding of the forum which she said is "vital in preventing us from turning a blind eye or turning silent to the crime of child rape."
Meanwhile, Dongeto said that a similar forum was already conducted in Cebu and Davao and they hoped to hold the same in Bicol and Baguio.
The one-day forum also brought in speakers from the Child Rights Network, a coalition of organization that pushes for the rights of Filipino children, Child Protection Unit of the University of the Philippines Manila. (PNA)