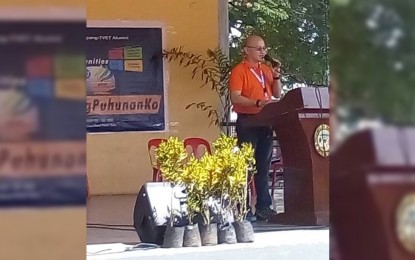 SAN JOSE DE BUENAVISTA, Antique -- The Technical Education and Skills Development Authority (TESDA) will be providing skills training to all indigenous peoples (IPs) communities in the province by 2019.
TESDA Antique Provincial Director Jose Gerry Hallares, in an interview Friday, said the training will help members of the cultural minorities acquire new skills for their livelihood.
Antique has around 18,000 cultural minorities composed of Ati, Iraynon Bukidnon and Cuyonin.
This year, they started with five towns in Antique where they offer masonry and wellness massage training.
"Our budget this year is only PHP1.5 million so it has been used for the training of IPs in the five towns," he said.
The training kicked-off last August with the 15-day wellness massage training for 25 Ati IPs in Tina, Tobias Fornier and 50 Iraynon Bukidnon in Libertad.
Moreover, 25 Ati from Barangay Igcococ, Sibalom trained on masonry for 16 days in the same month.
At present, there is an ongoing training on construction for Iraynon Bukidnon IPs from Valderrama and from San Jose de Buenavista.
The training is under the Special Program for Employment of Students, under which, the IPs are given tool kits for their self-employment.
Hallares said they are expecting a bigger budget next year to cover the trainings of more IP communities in the municipalities.
"I will be meeting the tribal leaders January next year so that I would know what particular skills training would they like to have," he said.
In addition to the five mentioned municipalities, IP communities are also found in the towns of Laua-an, Culasi, Barbaza, Tibiao, and Anini-y. (PNA)