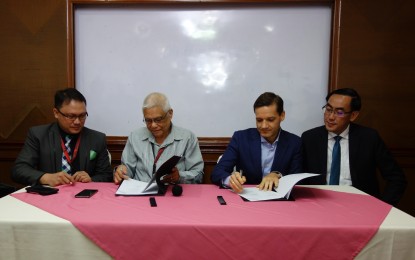 MANILA -- The Department of Information and Communications Technology (DICT) has partnered with international cybersecurity firm, Kaspersky Lab, to strengthen cybersecurity efforts in the government.
The DICT has signed a Memorandum of Understanding (MOU) with Kaspersky, which will enhance capacity development and institution building on cybersecurity within the public sector during the first Philippine International Cybersecurity Conference held in Davao City last week.
"Our experience at Kaspersky Lab alone shows how a collective approach in battling cybercrime is very effective at demystifying the most complex of cyberthreats and keeping ahead of the cyber criminals. With our cybersecurity expertise, we hope to support the Philippines the best way we can as we do with other governments around the world," Stephan Neumeier, Kaspersky Lab Asia Pacific managing director, said in a statement on Tuesday.
The MOU states that both parties will establish tuition-based training programs for the government, research and competence centers, as well as universities, to boost information technology security skills and support cybersecurity awareness drive on online security in the country.
They will also share relevant information, intelligence and data; and assist each other in cybercrime investigations through the DICT National Cyber Intelligence Center.
For his part, DICT Assistant Secretary Allan Cabanlong said the partnership with Kaspersky will strengthen the country's efforts in identifying and preventing cybersecurity threats.
"We hope that this holistic private-public cooperation will be a fine example of how information and expertise-sharing will be highly beneficial to the public ultimately. We are confident that this partnership will bring forth a positive impact not just on the Philippines' national cyberdefenses but also on the lives of ordinary Filipino citizens," Cabanlong said.
The Philippines was the ninth most attacked country in terms of online threats worldwide, according to Kaspersky Lab's cyberthreat report for the second quarter.
Around 10.6 million web infections were recorded for the period, 39 percent of which were against individual Internet users and 11 percent against businesses. (PNA)