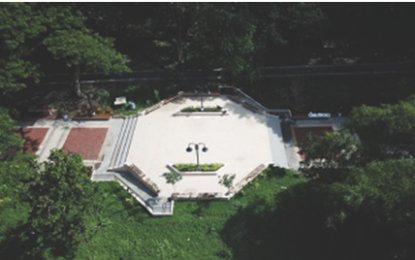 MANILA -- The Upsilon Sigma Phi of the University of the Philippines volunteered to construct a walkway from Gonzalez Hall (the Main Library) to a terminus along the Beta Way as part of an external learning center within the Diliman campus.
Dubbed the "U.P. Promenade," it became "the centerpiece project of our fraternity's centennial celebration," said Noy Dy-Liacco '65, chairman of the Upsilon Sigma Phi Centennial Commission.
The fraternity, in a press release Monday, said it was inspired by the centennial celebrations and the vision of former UP President and Fellow Fred Pascual '67.
Concept, design and construction were an all-Upsilon effort.
Butch Aguila '73 was project head, Ace Dimanlig '67 designed the 120-meter walkway, Jet Calosing '88 built the UP Promenade while Garry Hidalgo '94 provided the landscape works.
Ernie de Castro 64's firm provided the engineering designs and construction management.
The promenade offers a broad walkway with alcoves, plazas and benches where students and faculty will have a stimulating environment for study and discourse.
In the middle is the "Freedom Plaza," meant as a venue for free expression of ideas and dreams.
The 120-meter walkway is divided into 10 sections, each representing the 10 decades of the Frat's existence.
There are 14 custom-built lamps, in the shape of the Greek letter Upsilon, each one dedicated to the 14 ambitious young men who, 100 years ago, founded the first Greek-letter society in the Philippines and possibly, in Asia.
It ends at the octagonal "Upsilon Garden," where eventually, the marker from the (NHCP) National Historical Commission of the Philippines will be installed.
Upsilonians and their family members funded many projects, most especially the UP Promenade; other projects include the Fellowship of the Lights Centennial Ball, Kapit-Kapit monument in U.P. Los Baños, repair and cleaning of the replica of Rizal's "Triumph of Science over Death" statue at U.P. Manila funded by the USPNA Chapter, and the cleaning of the bust of Wenceslao Q. Vinzons, a distinguished Upsilonian who gave his life to the nation during the Second World War.
The promenade will be formally launched this coming Nov. 15, 2018 by the Upsilon Centennial Commission, the Upsilon Sigma Phi Alumni Association and Upsilon's Batch '86 and dubbed as 100 Novembers.
According to Ed Sunico, USPAA Board Director, this new icon in Diliman "deserves a celebration that befits its role as an external learning center."
"It manifests our close ties with the University that nurtured us as students and embraced the Upsilon Sigma Phi as a partner for 100 years! 100 Novembers is a tribute to this long lasting relationship which we honor to this day'," he added.
The program will include the unveiling of the dedication wall of the UP Promenade, recognition of the donors and a light and sound show to cap the activity.
"The projects, most specially the flagship U.P. Promenade are testaments of our loyalty to our Alma Mater. They are also a tribute to our Brotherhood, to those who have continued the fine traditions of Upsilon Sigma Phi and those who gave their lives in the service of the nation," Dy-Liacco said. (PR)