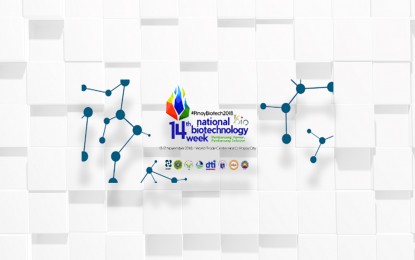 MANILA — The Department of Science and Technology (DOST) is inviting the public to learn more about biotechnology and how this could help address some challenges in the food industry, by visiting the exhibits at the World Trade Center (WTC) in Pasay City on Nov. 13-17.
As part of the observance of the 14th National Biotechnology Week, the DOST, together with the Department of Agriculture (DA), has organized a trade fair and will conduct various talks.
The theme for this year's observance is, "Pambansang Hamon, Pambansang Solusyon."
In a press conference, DA Undersecretary Segfredo Serrano said the top three challenges that may be addressed through biotechnology are food security, industry competitiveness and productivity, and adaptation to climate change.
He said biotechnology will help address scarcity in rice and fisheries.
"Biotechnology is a huge help in terms of providing breeding technologies, gene markings. There will be increased precision (in planting method)," Serrano said.
He added that biotechnology would increase industry competitiveness, as this would help reduce cost and increase productivity.
Reynaldo Ebora, acting executive director of the DOST-attached agency Philippine Council for Agriculture, Aquatic and Natural Resources Research and Development (PCAARRD), said biotechnology is important in agricultural production.
"We have an ongoing project, where we're working on producing a better number of coconuts," Ebora said, adding that biotechnology helps in germination and plantlet regeneration.
Jaime Montoya, executive director of the DOST's Philippine Council for Health Research and Development (PCHRD), said biotechnology is also used to develop vaccines, which are very crucial in preventing diseases.
Meanwhile, aside from the exhibits and fora, visitors can also check or purchase DOST-assisted products during the five-day activity.
Among these products are mushroom chips, "chicha-cow" (chips), carabao milk candy, and ube (purple yam) espasol. (PNA)