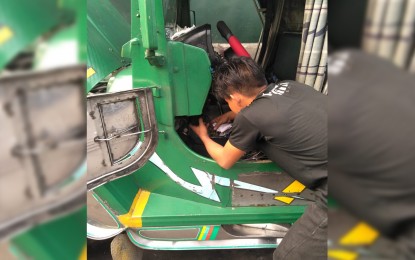 MANILA -- As a child, Joemar Cancino dreamed of making 5-star hotels and skyscrapers brightly shine with his electrical skills. He wanted to be an electrical engineer, but his family's financial status forced him to quit school and work odd jobs to earn money.
"Mga pitong taon na po ako nagtatrabaho. Trese po ako nang tumigil sa pag-aaral, kasi sabi ng mga magulang ko nahihirapan na sila papag-aralin ako (I've been working for seven years. I was 13 when I stopped studying, because it's difficult for my parents to send me to school)," he told the Philippine News Agency (PNA).
Cancino, now 20, said his current work as a jeepney electrician allows him to support his parents and younger siblings who are still studying in elementary schools in Pangasinan.
"Pang-apat po ako sa aming pitong magkakapatid pero ako na po ang inaasahan ng mga magulang ko sa pinansyal dahil may asawa't anak na po ang mga nakakatanda kong kapatid (I'm fourth in a family of seven children but my parents rely on me for our financial needs because my older siblings already have their own families)," he said.
Working on a commission basis, Cancino does not have a steady income.
"Sa PHP300 po na bayad, PHP100 ang akin. Minsan nakaka-anim na jeep ako sa isang araw pero hindi araw-araw maraming nagpapagawa (For a PHP300 fee, I get PHP100. Sometimes I'm able to fix six jeeps a day but it's not every day that we have a lot of customers)," he added.
When asked if he still wants to finish a vocational course related to his line of work, Cancino said he is not sure as he needs to spend more time working to provide for his family's needs.
"Elementary lang po kasi tinapos ko, kung sana noon pa nalaman ko na mayroong mga scholarships na pwede makatulong makatapos ako ng pag-aaral, di ba po? (I only finished elementary, if I only knew earlier about scholarships that could help me finish my studies, right?)," he said.
Cancino is one of 9 percent of the estimated 39.2 million Filipinos, aged 6 to 24 years old, who are out-of-school children and youth (OSCY).
The Philippine Statistics Authority (PSA) defines OSCYs as family members, 6 to 14 years old, who are not attending formal school. They are also family members, 15 to 24 years old, who are currently out-of-school, not gainfully employed, and have not finished college or any post-secondary or vocational course.
Karol Mark Yee, chief of party of Youthworks Philippines, said OSCYs are generally seen as lazy and unproductive members of society that is why some business owners are having second thoughts about hiring them.
"But the truth is most of them are unable to finish school because of poverty," he said.
YouthWorks PH is a five-year partnership between United States Agency for International Development (USAID) and Philippines Business for Education (PBEd) that engages and mobilizes the private sector to address the education needs of the youth, as well as skill requirements of employers.
It aims to improve access to training and employment opportunities for at least 40,000 youth through an innovative work-based training approach.
Saying that OSCYs are not lost causes and worth investing in, Yee said that their collaboration with companies and organizations has already positively changed their mindset towards OSCYs.
"Punlaan, Messy Bessy and SKILLS in Cebu, for example, are tech-voc (technical-vocational) institutes or companies with training programs that aim to train at-risk youth. In January, we'll be rolling out our information, education and communication campaign...before we start recruiting eligible youth beneficiaries in February," he added.
Yee said every OSCY has the potential to be a contributor to the country's economy if they are given a second chance to study and earn at the same time.
On September 3, then Technical Education and Skills Development Authority (TESDA) Director General Guiling Mamondiong and PBEd Executive Director Lovelaine Basillote signed a memorandum of understanding for YouthWorks PH and TESDA to develop work-based training programs for unemployed youth.
The agreement also covers curriculum improvements and industry immersion of trainers.
This followed an earlier agreement between YouthWorks PH and Department of Labor and Employment (DOLE) on providing training programs for eligible youth and linking them to employment opportunities.
These agreements will see DOLE, TESDA, PBEd and USAID working together to provide innovative work-based training approach for jobless youth in areas such as Metro Manila, Iloilo, Cebu, Zamboanga, Cagayan de Oro, General Santos and Davao. Some of the industries covered are construction, hospitality and tourism, agriculture, manufacturing, energy, and banking and finance. (PNA)