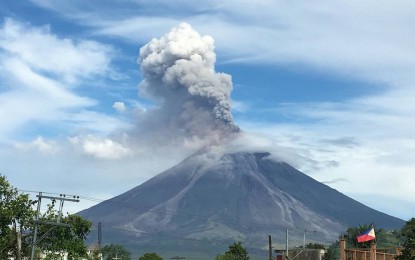 LEGAZPI CITY -- Mayon Volcano in the province of Albay had two episodes of phreatic eruption at 7:59 a.m. and 8:05 a.m. on Monday, the Philippine Institute of Volcanology and Seismology (Phivolcs) said.
Phivolcs Director Renato Solidum, in a phone interview, said Alert Level 2 remains over the volcano and there is no need yet to raise the status. Alert Level 2 means moderate level of unrest.
Solidum explained that the phreatic explosions were triggered by groundwater underneath the volcano vent mixing with hot steam or pressure.
"There are no other parameters except for the bulging of the edifice at the southeast sector as indicated by our Precise level data last October," he said.
Solidum said in raising the volcano's alert status, there should be observed parameters such as intense crater glow, which is so far not present.
The Phivolcs chief, however, reiterated the warning to villagers not to enter the six kilometer-radius Permanent Danger Zone or even the precautionary seven-kilometers extended danger zone covering the area from Barangay Anoling in Camalig town to Sta. Misericordia in Sto. Domingo.
Pilots were advised to avoid flying close to the volcano's summit as airborne ash and ballistic fragments from sudden explosions may pose hazards to aircraft.
According to the Phivolcs bulletin, Monday's explosions generated gray to grayish-white plumes that rose 500 and 300 meters above the summit, respectively, during the first and second incidents. (PNA)