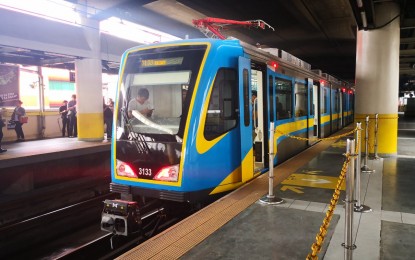 MANILA -- The Metro Rail Transit Line 3 (MRT-3) has deployed the second train set purchased from Chinese firm CRRC Dalian.
The train set, consisting of three cars, was deployed to the MRT line from 10 a.m. until 2 p.m. on Tuesday.
It will be undergoing test runs for 150 hours during off-peak hours to determine their reliability and performance on the MRT line.
"The said train set will run during off-peak hours -- 9 a.m. to 3 p.m. from Dec. 11 to 15 and 6 a.m. to 9 p.m. from Dec. 16 to 23," the MRT-3 management said in a statement Tuesday.
The deployment of the second Dalian train set follows the rollout of the first train set last October.
The first train set has concluded its 150-hour test run last Nov. 21 and was brought back to the MRT depot pending the assessment of the Philippine National Railways of its performance.
A total of 48 Dalian light rail vehicles (LRVs) were delivered to the country in 2016 but were not deployed to the MRT line due to compatibility issues. Supplier CCRC Dalian eventually agreed to absorb the costs for the adjustments of the trains.
Department of Transportation Undersecretary for Railways Timothy John Batan earlier said the Dalian trains must first undergo the 1,000-kilometer test run for 150 hours before these are deployed during peak hours of the MRT-3's operations.
Meanwhile, unloading incidents in the railway system have declined to 56 from January to November this year compared to 440 and 562 for the same period in 2017 and 2016, respectively.
The MRT management attributed this to the ongoing maintenance works on the MRT and the delivery of vital spare parts.
This development comes following the signing of the PHP18-billion loan agreement by the Philippines and Japan for the MRT rehabilitation project last November.
The loan agreement covers the repair and maintenance of the MRT-3's electromechanical components, power supply, rail tracks, and depot equipment, and the overhaul of its 72 light rail vehicles.
Sumitomo Mitsubishi Heavy Industries will take over the rehabilitation and maintenance of MRT-3 starting January next year. (PNA)