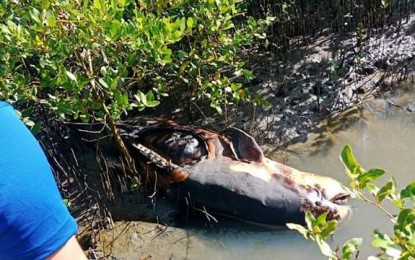 BACOLOD CITY -- Residents of Negros Occidental were encouraged to report sightings of the Irrawaddy dolphin to protect the population of the endangered species.
The call was made by the Center for Research and Engagement of the University of Saint La Salle-Bacolod after a dead pregnant Irrawaddy dolphin was found at the mangrove area of Barangay Sampinit in Bago City earlier this month.
Research associate Mark de la Paz, whose team examined the animal, said in an interview on Tuesday that they suspect the dolphin, which measured about two meters, was about to give birth.
De la Paz said they found a wound on the animal's body, with its ribs cage broken.
"The dolphin was possibly hit by a boat or a hard object," he added.
The initial sighting of the floating dead dolphin was reported by a resident on Jan. 3, but when the locals tried to check on its presence, they could no longer find its carcass.
Members of Barangay Katungdan, a group of volunteers for mangrove protection, again received reports on its sighting on the morning of January 13.
De la Paz said the animal's carcass was already in the advanced state of decomposition when found in the mangrove area.
Irrawaddy dolphins -- considered critically endangered in Negros Occidental -- inhabit the waters of Bago City and Pulupandan town.
De la Paz's group called on fishermen to slow down their boats during fishing activities to avoid hitting the dolphins. (PNA)