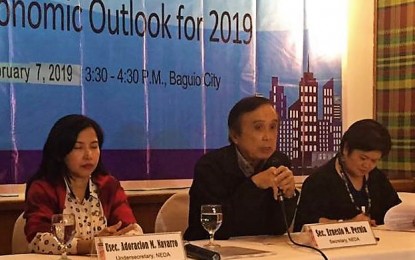 BAGUIO CITY -- Socioeconomic Planning Secretary Ernesto Pernia said Thursday the Philippine economy has been growing by at least 6 percent for more than three consecutive yearslready, which is the strongest economic growth since the mid-1970s.
"The Philippine economy became stronger and even more resilient than ever," Pernia said in a press conference here.
He added that despite external and domestic headwinds in 2018, the Philippines is economically doing well and continues to be among the best performing major economies in the Southeast Asian region, marking a 6.2 percent growth in its gross domestic product (GDP).
Pernia, who was in the city for the Cordillera stakeholders' meeting attended by members of the Regional Development Council (RDC), also said that all the 17 regions of the country posted a positive economic growth in 2017. The 2018 report is expected to be out by April.
He lauded the Cordillera region for achieving a 12.1-percent growth rate in its regional gross domestic product (RGDP), which is the highest in the country.
"Cordillera is a star. It achieved a growth rate that was nearly double than the Philippine economic growth rate, which was at 6.7 percent," Pernia said.
Cordillera also recorded a low inflation rate of 5.2 percent in 2018 and the lowest, at 3.1 percent, in January 2019, he said.
2019 prospects
Pernia said Cordillera contributes 1.8 percent to the national economy.
He said 2019 will pose challenges as an effect of the trade war between China and the United States.
"If 2018 has not been easy for us, 2019 will not be lacking challenges. Global growth is expected to slow down. That's because of the trade war between United States and China and the normalization of interest rates in different parts of the world, like in the US, Europe and the slowdown in economy of China this year," he said.
Pernia said the country will need to ramp up the implementation of the Philippine Export Development Plan 2018-2022 to make the country less affected by global economic events.
Economic activities happening in the country will serve as buffer for the Philippines, he said.
"The resilience of the Philippine economy in 2018 will likely continue this year. We have a strong domestic demand. Household consumption is seen to pick up in the next quarters as inflation is expected to ease this year," Pernia said.
"To some extent, the mid-term elections could also drive the growth in public spending, particularly for the first half of 2019. This will be supported by the 'Build, Build, Build' program gaining steam expected this year," he added.
The Joint circular of the National Economic and Development Authority and the Department of Budget and Management that strengthens the link between national planning and budgeting of the regions will also bring more significant projects to line agencies.
"We expect this move to provide a strong foundation for growth this year," Pernia said. (PNA)