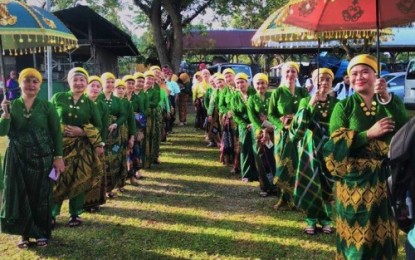 BULUAN, Maguindanao -- All is set for the third visit of President Rodrigo R. Duterte here Monday afternoon to distribute lands to agrarian reform beneficiaries, grace the "Inaul" festival and lead the inauguration of the new Maguindanao provincial capitol building, dubbed as the "Maguindanao White House."
The province had been celebrating the "Inaul" festival since last Feb. 7 and will culminate on February 14.
The festival showcases the iconic "Inaul" fabric Maguindanaons have been producing using wooden looms for centuries now.
It is very popular now as "malong" (wraparound tube skirt) and even used in gowns, and wedding dresses, among others.
"We are glad that the President accepted our invitation despite his busy schedule," Maguindanao Gov. Esmael "Toto" Mangudadatu said in a radio interview Monday.
Mangudadatu said the festival is another form of "Kanduli" (thanksgiving) for the peaceful plebiscite in Maguindanao and the ratification of Bangsamoro Organic Law (BOL) both he and the President had campaigned for.
The BOL is the enabling law for the creation of the Bangsamoro Autonomous Region in Muslim Mindanao (BARMM) that will replace the current Autonomous Region in Muslim Mindanao (ARMM) setup.
All roads leading to the provincial capital here had been secured and well-guarded with both police and military personnel guarding all the entry and exit points.
Duterte was here in July 2016 when he visited the biomass power plant project and in April 2018 when he inspected the firearms surrendered by civilians in Maguindanao. (PNA)