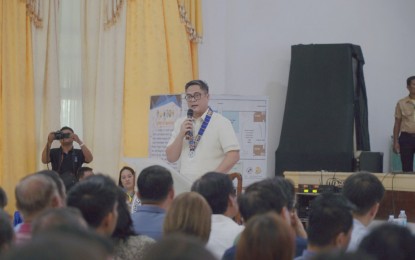 MANILA -- There should be more Mindanaoans representing the Senate, Presidential Communications Operations Office (PCOO) Secretary Martin Andanar said.
Andanar made this remark during the Piyesta sa Kapitolyo in Surigao City on Monday (Feb. 11) urging Mindanaoans to consider voting for senators who will ensure that their region will not get left behind.
He said that the Senate should have at least a 25 percent representation of lawmakers from Mindanao, noting that there was a high chance for it to happen considering President Rodrigo R. Duterte is also Mindanaoan.
"We should have at least six senators from Mindanao. Now, if we were able to catapult a city mayor from Davao to the presidency, I do not think it will be impossible for us to place two more senators from Mindanao so that there are five," Andanar said in his speech.
Andanar said the current 24-member Senate only has three lawmakers from Mindanao namely Senators Emmanuel "Manny" Pacquiao, Aquilino "Koko" Pimentel, and Juan Miguel "Migs" Zubiri.
"Personally, I am advocating for Mindanao for Mindanao-known senators," he added.
Aside from reelectionist Pimentel, other Mindanaoans running for a seat in the Senate in May 13 mid-term polls are Maguindanao Rep. Zajid Mangudadatu, former Philippine National Police (PNP) chief and now Bureau of Corrections (BuCor) head Rolando "Bato" Dela Rosa, and former Special Assistant to the President Christopher "Bong" Go.
The PCOO chief also encouraged Mindanaoans to consider voting for candidates "whose personification is concentrated on service and whose office is beyond corruption."
"We honor the sacred values we must uphold in those whom we should vote for in the forthcoming elections," Andanar said.
Under the proposed federal charter drafted by the Duterte's Consultative Committee (ConCom), there will be two senators in each federated region.
"Every Federated Region shall be represented by at least two (2) Senators elected by the qualified voters in the Federated Region; Provided, that each region shall have the same number of senators," the charter's article on the Legislative Department reads.
Meanwhile, Andanar lauded the provincial government of Surigao del Norte for doing its best in providing the needed programs and services for Surigaonons.
In the same event, Andanar and Surigao del Norte Governor Sol Matugas personally handed to fishermen certificates of acceptance to receive fishing paraphernalia.
Later, Andanar joined Technological Education and Skills Development Authority (TESDA) Caraga regional director Florencio Sunico Jr., during the ribbon cutting for the Empleyado Kabuhayan Program which will provide employees with skills demonstrations and development trainings to enhance their livelihood. (PNA)