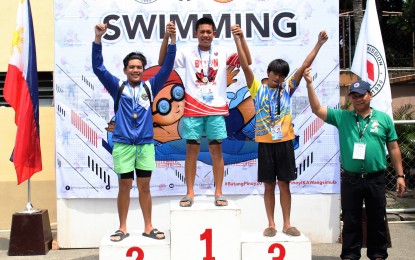 ILOILO CITY -- Gulliver Clive Clemente of Antique came up with another sterling performance in the swimming competition of the Philippine Youth Games-Batang Pinoy (PYG-BP) Visayas qualifying leg, winning two more golds at the Iloilo Sports Complex here on Tuesday.
Clemente, a member of the Binirayan Tadpoles Swim Club, topped the 50-meter breaststroke and the 400-meter Individual Medley (IM) events in the boys' 13-15 category to increase his gold haul to three.
He won the 50m event in 33.48 seconds, beating Victoriano Martin Tirol of Tagbilaran (34.89) and Michael Lorenzo Dagohoy of Dingle, Iloilo (34.97).
Clemente, who was born and raised in San Jose town, clocked 5:18.92 to win the gold in the 400m IM event. Seth Vicef Somoza of Dumaguete City (5:32.74) got the silver while Toby Concon of Negros Occidental (5.37.94) took the bronze.
"I'm very happy and proud because I wasn't expecting to win three golds in the Batang Pinoy," Clemente said.
Clemente bagged his first gold medal in the 200m IM event on Monday, first day of this week-long tournament organized by the Philippine Sports Commission (PSC) for children 15 years old and below.
In the 2018 PYG-BP Visayas qualifying leg held in Dumaguete City, Negros Oriental, Clemente bagged one gold (400m IM), three silvers (50m and 200m breaststroke, and 200m IM) and one bronze (100m breaststroke).
"I hope that I can win my two remaining events and improve my personal best time," said the 2017 Palarong Pambansa gold medalist in the 200m IM event. His two remaining events are the 100m and 200m breaststroke.
Last week, Clemente captured one gold (200m IM), one silver (200m breaststroke) and one bronze (100m breaststroke) in the Western Visayas Regional Athletic Association (WVRAA) held in Roxas City, Capiz. The tournament serves as qualifying for this year's Palarong Pambansa to be hosted by Davao City. He set personal best times in all three events.
Binirayan Tadpoles Swim Club coach Jo Reuel Galindo said he had expected Clemente's time to be slower.
"Considering that last week was our regional meet and that meet is a very important meet to qualify for the Palarong Pambansa. I'm expecting his time to be slower because he has given his best during the regional meet. But I am happy that he was able to maintain his time," said Galindo, who also trained Gulliver's two elder brothers, Guillermo and Guillfer.
Clemente's teammate, Theodore Francessco Fedelicio, also clinched the gold for Antique after winning the boys' 12-under 50m breaststroke event. Troy Castro of Negros Occidental won the silver while Kirk Alejandre Galo settled for the bronze.

Meanwhile, host Iloilo City collected six gold medals in the taekwondo competition held at Robinsons Place Pavia.
The gold medalists are flyweight Kyle Chin, featherweight Seth Hendrick Porquez, lightweight Jake Christian Mamigo and heavyweight Bill Donton III in the Kyorugi boys' cadet division, and Cyd Edryc Esmana (boys) and Elizabeth Marie Borres (girls) in the poomsae event.
Iloilo also secured two golds from Checy Aliena Telesforo (girls 15-under) and Kimberly Colaste (girls' 12-under) in the rapid chess event at the Iloilo Sports Complex covered court.
In tennis, La Carlota City defeated Cebu City, 2-1, to reach the final of the girls' team event at the La Paz tennis court. La Carlota City will face the winner between Iloilo City and Cebu province. Iloilo City beat Mandaue City, 2-1, while Cebu province outclassed Dumaguete City, 2-0, to arrange a semifinal showdown.
In the boys' team event, Maasin City downed Bayawan City, 2-1, to advance in the gold medal round against the winner between Cebu City and La Carlota City.
Cebu City won over Tigbauan, Iloilo, 2-0, while La Carlota City prevailed over Iloilo City in the quarterfinal round.
In volleyball competition at the Central Philippines University Gym, Dumaguete City rallied past La Carlota City, 21-15, 25-23, 15-10; Iloilo City beat Cebu province, 25-11, 25-17; San Carlos City downed Zarraga, 25-15, 25-21, in the first round of the boys division.
Also winning their first-round assignments in the girls division were La Carlota City over Bayawan, 25-14, 25-14; Iloilo City over Bacolod City, 17-25, 25-23, 15-12; Negros Occidental over Dumaguete City, 25-17, 25-19; and Cebu Province over Cebu City, 25-15, 25-17.
In boxing, Sean Oneil Abello of Cebu province (boys' lightweight) and Fernando Lacana Jr. of Bobon, Northern Samar (boys' light flyweight) won their respective first-round matches at the Dungon a Jaro covered court. (PNA)