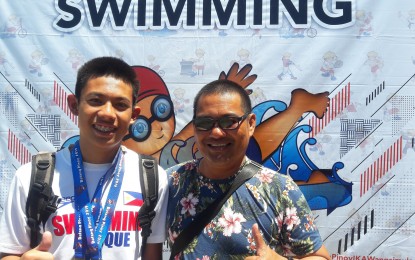 ILOILO CITY -- Archer Naina Dominique Tagle won all her seven events while swimmer Gulliver Clive Clemente fished out his fifth gold to share the limelight in the ongoing Philippine Youth Games-Batang Pinoy (PYG-BP) Visayas qualifying leg here.
Representing Dumaguete City, Tagle ruled the girls' cub (12-13) Olympic round event on Thursday to clinch her seventh gold medal.
The Grade 5 student from Silliman University defeated Cebu City's Shane Dinopol, 7-1, in their final showdown at the West Visayas State University field.
"I am inspired to perform well because I want to join my sister in the national team," said Naina, younger sister of Nicole Marie who represented the country in the 2018 Youth Olympic Games in Buenos Aires, Argentina.
Naina, a first-timer in this tournament organized by the Philippine Sports Commission (PSC) for children 15 years old and below, also ruled the 20-, 30-, 50-, and 100-meter, FITA round and mixed team (with Matt Bajado) events.
Naina's teammate, Prisa Herren Lofranco, pocketed six gold medals in the girls' cadet (14-15) category.
Clemente, on the other hand, won the boys 13-15 100-meter breaststroke event for his fifth gold medal at the close of the swimming competition at the Iloilo Sports Complex pool on Thursday.
The 14-year-old Clemente clocked 1:13.24 to win his favorite event over Tagbilaran City's Victoriano Martin Tirol (1:18.24) and Negros Occidental's Tristan Miguel Villa (1:19.37).
"Super thankful po ako kasi naging worth it din yung lahat ng tiyaga at effort ko sa training (I'm so thankful because my hard work in training paid off)," said the 5-foot-8 Clemente.
Clemente also captured gold medals in the 200- and 400-meter Individual Medley (IM), and the 50- and 200-meter breaststroke events.
Clemente, 2017 Palarong Pambansa gold medalist, failed to sweep all his six events after his team also composed of Jefferson Fulion, Rey Sembrano Jr., and Theone Francessco Fedelicio settled for fourth spot in the 200-meter IM.
"I hope I can win more medals in the future. My goal is to break my personal records," said Clemente, whose elder brother Guillermo is the record holder in the 50- and 100-meter breaststroke events in the National Collegiate Athletic Association (NCAA).
Head coach Jo Reuel Galindo commended Clemente's huge improvement from only one gold medal, three silvers and one bronze performance in the 2018 Batang Pinoy Visayas elimination.
In sepak tarkaw, Cebu province claimed the boys' title over Mina (Iloilo) while Batad (Iloilo) secured the girls title over Sagay City (Negros Occidental) in the regu event finals.
Negros Occidental snatched 10 gold medals in athletics won by Marden Gabriel Villanueva (boys' 100 meters, 200 meters), Francine Alamo (girls' triple jump and long jump), Elyka Salmoria (girls' 2000-meter walk), Joven Jacob (boys' 2000-meter walk), Ainex Gabriel Villanueva (boys' shot put), Brineth Cupan (girls' 200 meters), Rhea May Cainoy (girls' 800 meters) and Joyce Satia (girls' 1500 meters).
Cebu brought home seven gold medals courtesy of Vylette Kaye Alvez (girls' 100-meter hurdles), Gio Begunio (boys' discus throw, javelin throw), Donnaliza Torres (girls' high jump), Moira Frances Frediano (girls' 2000 meters), boys 4x100 meters (John Luis Daligdig, Jibrael Umal, Joshi Velasco, John Arthur Delfin) and boys' 4x400 meters (Seung Lee Park, Fritz Tulod, Jibrael Umal, John Luis Daligdig).
Bacolod City (Negros Occidental) and Bago City (Negros Occidental) got four golds each. The gold medal winners were Kenneth Malaya (boys' 110-meter hurdles), Louriane Yvonnel Garcia (girls' 400-meter hurdles), Kim Licayan (boys' 400-meter hurdles) and girls' 4x400 meters (Vanessa Rose Rota, Kristelle Me Leyson, Winona May Tabada, Garcia) of Cebu City; Krisha Aguillon (girls' 100 meters), Aubrey Mae Mercado (girls' 400 meters), 4x400 mixed relay (Aguillo, Mercado, Athena Rose Besana, Shalthea Delotavo) and 4x100-meter mixed relay (Aguillon, Mercado, Christian Aquino, Paul Gabriel Yap) of Bacolod City; and Kate Julianne Martinez (girls' shot put, discus throw, javelin throw) and John Mark Martir (boys' 1500 meters) of Bago City. (PNA)