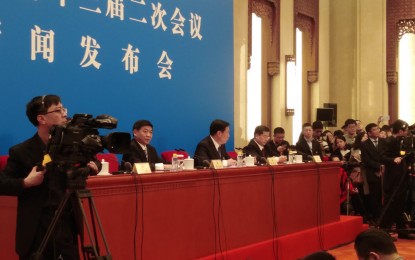 BEIJING -- The Chinese government does not plot any debt trap for developing countries, where it extends loans to fund infrastructure projects, China's top political advisory body said in a press conference at the Great Hall of the People on Saturday.
Guo Weimin, spokesperson of the second session of the 13th National Committee of the Chinese People's Political Consultative Conference (CPPCC), said extending Chinese loans to developing countries aims to facilitate infrastructure projects that are expected to bring development and boost the economic growth of these nations.
"Chinese investments only account for a very small share to their total debt. And our projects are mostly infrastructure, which can support the long-term development of those countries," Guo said.
"Yet some say, this is a great debt trap. But this doesn't make sense," he added.
In the Philippines, some feared that it will fall into debt trap to China as the Philippine government is now more aggressive in tapping Chinese loans.
China is financing the USD62 million Chico River Pump Irrigation Project in the Philippines, targeting to water around 8,700 hectares of agricultural land and benefiting more than 4,300 families in the northern part of the country.
Data from the Philippines' Department of Finance (DOF) also showed that the country's projected debt to China by 2022 will only account for 4.5 percent of the total debt. This is lower compared to the debt to Japan at around 9.5 percent of the government's total debt by 2022.
The DOF also said the Philippines' stable fiscal condition will be able to pay its obligations.
Philippine government data also showed that the country's debt-to-GDP ratio in 2018 was estimated at 41.9 percent, lower than its 42.1 percent target for the previous year.
"Actually the debt problem of some developing countries is complicated. It is a product of history," Guo said.
Meanwhile, China will start on Sunday the "Two Sessions" or the Lianghui -- the annual plenary session of CPPCC and the National People's Congress, its supreme organ of state power. (PNA)